Unspecified streets to receive names; winning submissions awarded
Tuesday, October 3rd, 2023
The San Pedro Town Council (SPTC) launched a street naming competition in mid-August. Those participating were required to create a sign with the street's name. Several entries were submitted, and three winners were selected at the end of the competition. These included Karissa Vasquez, Dion Ingram, and Mike Garman.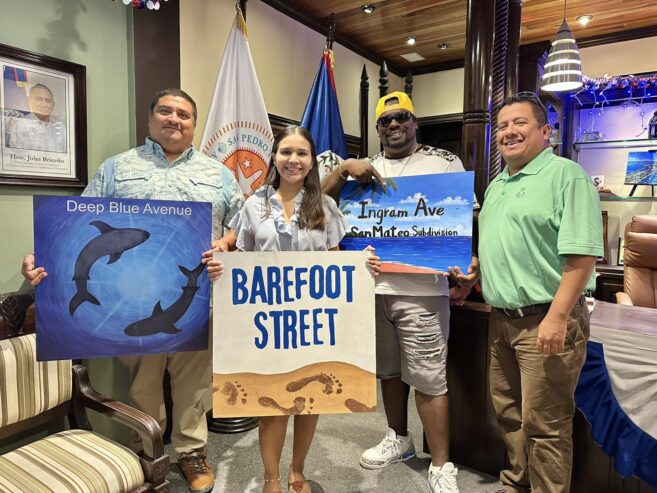 The winners were invited to the office of Mayor Gualberto' Wally' Nuñez on September 29th, where they were recognized for their winning submissions in the company of Councillor Ernesto Bardalez. Vasquez took the first place, which included a cash prize of $500 for her submission, 'Barefoot Street.' In second place was Ingram's creation, naming his street after his last name in the San Mateo subdivision, 'Ingram Avenue.' In third place was Mike Garman with his 'Deep Blue Avenue' submission painted by his step-daughter Hannah Bichekas.
According to the contest requirements, the signs had to be 2 feet by 2 feet and made from wood or aluminium. The submission theme had to be tropical or aquatic, and the proposed names did not exist.
According to Councillor Bardalez, the names submitted are not official until they are gazetted. He said that besides this contest's winning names, a list of proposed street names will be gazetted in the coming weeks. He added that the other submissions for street names, some with no design, will also be considered for different streets. The SPTC will add a design to these additionally selected street names.
The SPTC stated that many more unnamed streets in town need to be named. They asked the island community to stay tuned as similar opportunities to participate in upgrading roads will take place soon.
The winners of the street naming competition briefly shared that it was an honor to be allowed to work on a design and name for a street. They encourage other islanders to participate in these community activities to contribute to the growth and beautification of San Pedro. They are proud of their submissions and look forward to seeing them in a designated street whenever the names become official.
Follow The San Pedro Sun News on Twitter, become a fan on Facebook. Stay updated via RSS