ACES rescues Tia the Anteater in San Juan
Friday, May 11th, 2012
A Collard Anteater or Tamandua, was rescued in San Juan on Sunday night, May 6th, thanks to the quick response of wildlife specialists Vince and Cherie Rose, of ACES, the American Crocodile Education Sanctuary. The little critter is now receiving care at the TAMANDUA World rehabilitation facility in the Cayo District.
The Collared Anteater is not commonly seen on the island but at times has been reported roaming the streets in the less traveled areas of town as well as the northern area of Ambergris Caye. It is a nocturnal, terrestrial and solitary creature which lives in trees and is found in Central and South America. As its name suggests, it feeds mainly on ants, termites and bees extracted after ripping apart their nests with their fore-claws. The average size of a Collard Anteater is around 23 inches in body length; while the tail would range around 19 inches with an average weight of about 13lbs.
The suffering Anteater, affectionately dubbed "Tia" (Aunt in Spanish) was found in San Juan under a London bridge in polluted water. According to Cherie, ACES was on a crocodile call in the area, when the little critter was found dehydrated, and apparently very tired. Her tail was bleeding from about three places and appeared to have bite marks, slightly healed, on her nose and neck.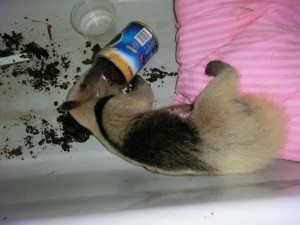 ACES took in the suffering "Tia", gave her fresh water and harbored her at their home. Cherie informed that Tia spent Sunday night at their house and slept a lot. On Monday ACES travelled north and cut down a termite nest and collected the insects for her to eat. Sure enough Tia gobbled up the termites and by Monday night she began to show signs of recovery, scampering around the house, finding her way through locked doors and creeping around exploring. "I did not apply topical antibiotics to her injuries because being an anteater, I didn't know her tolerance if she was to lick at it with her long tongue. I called the Belize Forest Department (BFD) and talked to Wildlife Officer Rasheda Sampson-Garcia and I also notified Dr. Isabelle-Paquet from the Belize Wildlife Conservation Network."
On Tuesday Vince transported Tia to Belmopan where BFD Wildlife Officer Jazmin Ramos along with Ella Dunn from TAMANDUA World collected her and drove her to Cayo to the new Wildlife Rehabilitation Center, where she was examined by wildlife veterinarian Dr. Isabelle Paquet-Durand.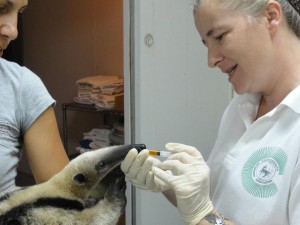 After a through examination, Dr. Paquet-Durand told The San Pedro Sun, "She [Tia] has a broken middle finger on the left hand. The middle finger is the strongest one in the tamandua and her left hand was obviously very swollen, felt warm to the touch and she was sensitive to the touch. I felt a slight crepitation (crack in the bone) and decided to take an x-ray, which confirmed the fracture. She is indeed using the hand and has strength in it so we are hopeful that she will heal. As to her release-ability it will take longer to assess as she goes through the healing process". Dr. Paquet-Durand went on to inform that Tia weighs 7lbs and has slight skin issues (normal for the species), some scarring and scabs from older injuries. As far as her age is concerned, Paquet-Durand stated, "It's hard to tell. From the x-ray I would say that she is not yet 'old'. Body wise she is fully grown and within adult weight range, but since they have no teeth, which is what most other animals can be aged by, it is tricky to say once they are fully grown. Wild guess would be that she is two to four years old". Paquet-Durand went on to say, "It was fabulous to be able to use the equipment purchased for the Belize Wildlife and Referral Clinic to help assess Tia's health, especially the x-ray thanks to recently winning the Heska Inspiration in Action contest".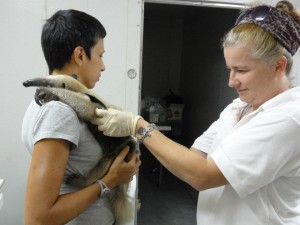 After the tamandua's health assessment Ella Baron from TAMANDUA World took Tia under her care. On Tuesday evening Baron told The Sun, "Tia is very relaxed right now, she is sleeping for the last four hours in the same space where she is eating- sleeps for 1/2 hour, eats termites for an hour, sleeps, eats…that is a very good sign – good appetite. I am in touch with Dr Isabelle, making sure that the injuries that she has will be healing. The first evaluation is that x-ray showed broken bone in the left paw, but other than that it is hard to say yet, if there's anything else it could take a few more days to observe her movements, behaviors, etc". The final decision on her future, captivity or release, however, will be determined by the BFD.
In closing Cherie Rose of ACES stated, "This incident again shows the need for a Wildlife Refuge Center here on Ambergris Caye; a center that would provide intermediate care for harmed wildlife while getting them to the appropriate organization for treatment. We encourage the community to assist us with this effort. The center would not only deal with crocodile issues, but would also employ a veterinarian to provide some immediate comfort to injured animals. Visitors could learn about the wildlife of Ambergris Caye by visiting the center and an entrance fee would provide self sustainability. The goal of the center would be to respond to all wildlife calls and do just what ACES did with Tia. Get the injured animal to the appropriate permitted facility on the mainland as quickly and as humanely as possible." ACES currently has a new location to be announced and are awaiting some secured funding, but still much more monetary support is needed.
The San Pedro Sun will be printing and posting Tia updates on our website at www.sanpedrosun.com as they become available.
Photo Gallery
Please help support Local Journalism in Belize
For the first time in the history of the island's community newspaper, The San Pedro Sun is appealing to their thousands of readers to help support the paper during the COVID-19 pandemic. Since 1991 we have tirelessly provided vital local and national news. Now, more than ever, our community depends on us for trustworthy reporting, but our hard work comes with a cost. We need your support to keep delivering the news you rely on each and every day. Every reader contribution, however big or small, is so valuable. Please support us by making a contribution.
Click to Donate
Follow The San Pedro Sun News on Twitter, become a fan on Facebook. Stay updated via RSS