The Belize Zoo says farewell to Lucky Boy
Thursday, November 10th, 2016
It was a gloomy day at The Belize Zoo (TBZ) when they announced that "Lucky Boy", a rehabilitated male black jaguar, passed away on Friday, November 4th. Lucky Boy arrived to TBZ back in July 2012, after bring found near death, and suffering from chronic health problems. Following his heart-breaking rescue, Lucky Boy brought joy and happiness to many lives through his amazing story over the past four years. The 20-year-old black jaguar received medical attention, but his health declined despite efforts.
TBZ Director Sharon Matola stated that his passing away came exactly one week after TBZ signed a Memorandum of Understanding (MOU) with Belize Forest Department (BFD) on Friday, October 28th. The MOU formalized the important relationship between TBZ and BFD, and promoted a mutually beneficial future for them. Since the zoo was founded in 1989, they have worked extensively on animal rescues, public education, and capacity building.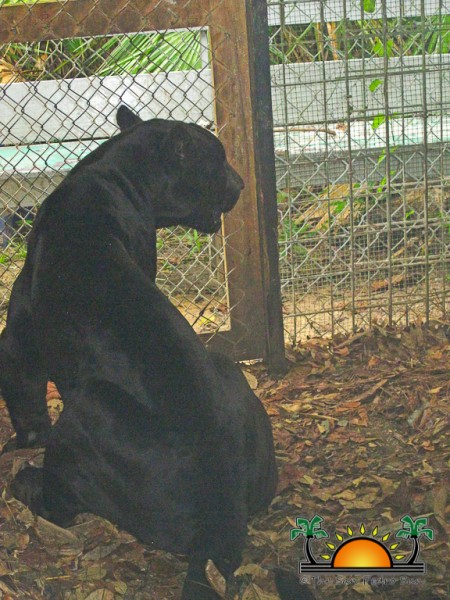 According to Matola, Lucky Boy was one of the most difficult rescue animals that the zoo has ever dealt with, but credits his rescue as a great example of team work. "Lucky Boy was left abandoned at the Ballum Na Lodge in Punta Gorda. When we rescued Lucky Boy, he was extremely starved, and emaciated. When we were finally able to remove him from his horrid conditions in captivity, the staff and I nursed him back to good health. We shared his story with the public, at the zoo, when he was off exhibit, and via internet. People everywhere in Belize, and abroad, were astonished at how any animal could be the victim of such cruelty. While The Belize Zoo always reinforced that we are a 'rescue zoo', Lucky Boys' arrival and follow up care and treatment highlighted that policy tremendously," explained Matola.
With help from professionals, it only took four months for Lucky Boy to fully recover. "When an animal is so starved, the most dangerous thing to do is to feed it lots of food. It has to be in increments so that the system is not shocked by the flood of incoming food. So I ended up moving into the zoo, sleeping in my office with my barn owl, and every three hours I would go to Lucky Boy and give him a treat. During that rescue/feeding time, he grew to trust and like my presence. I wrote a song for him, and he got used to hearing the "Lucky Boy" song after a bit of meat/treats. In summary, his time went from sad to happy, and his recovery only took four months," said Matola.
Lucky Boy's transformation was incredible. "In the beginning, he had lots of human contact. He learned to do a high five for a treat, we have him participate in a singing session, and then, to raise money for his exhibit, we offered people the chance to meet him, which assisted in providing him with food and necessary medications. Once Lucky Boy accepted the kind efforts of those who attend the zoo, he would come to go us when called, and was eager to do his tricks for a treat, which was a "high five" and a "yoga stretch".
Although Lucky Boy will be greatly missed, TBZ is committed to keeping his spirit alive. They also wish to advocate to the public that capturing wild animals and having them held in captivity is completely against the law. TBZ states that their message is the same as the significant message stated by philosopher Mahatma Gandhi, "the integrity of a nation and its moral progress can be judged in the way its animals are treated."
According to the Belize Wildlife Protection Act Revise Edition 2000 'wildlife' means all undomesticated mammals, birds, and reptiles and all parts, eggs and nests of any of these wildlife forms. Possession of any wildlife without a permit from the Belize Forest Department can result in imprisonment or/and fines equivalent to the offense committed.
If you know a person keeping a wild animal as a pet please contact the Belize Forest Department at 822-1524/ 822-2079 or email [email protected] to report the matter.
Follow The San Pedro Sun News on Twitter, become a fan on Facebook. Stay updated via RSS