WWF launches 'Save Our Shared Heritage' Global Campaign
Saturday, April 9th, 2016
World Wildlife Fund (WWF) launched their global campaign under "Save Our Shared Heritage" by the WWF on Wednesday, April 6th. WWF is one of the world's largest conservation organizations and is active in more than 100 countries. The iconic panda bear on WWF's logo signifies its mission to stop the degradation of the planet's natural environment, while building a future where humans live in harmony with nature.

In recent years, Belize has been home to the rising environmental issues such as offshore drilling, deforestation, loss of coral systems, climate change and pollution, which threatens the country's ecosystems. Currently, Belize's barrier reef and coastal zone are facing increased pressures from high-density unsustainable coastal developments driven by an increasing demand for tourism.
As part of the largest barrier reef in the Northern Hemisphere, WWF-Belize addressed the heavy duty task of strengthening the protection of said reefs. In Belize, 40% of the population in coastal areas are protected by coral reefs, mangroves, and sea grass. With more than 17,000 people working in Belize's fisheries industry, Belizeans depend on the health of the reef for their well-being. The only way to truly protect the Belize Barrier Reef System World Heritage Site and Belize's coastal/marine environment, is to have a full ban on oil exploration and drilling in Belize's marine territorial waters.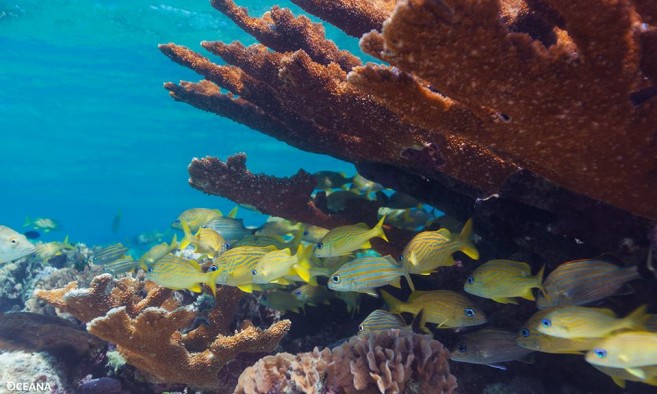 Representative of WWF Mesoamerica, Nadia Bood, explained that sustainable reef tourism could be a major driver of the future economic development in Belize. "We feel a sense of urgency in getting the threats to Belize's reefs addressed. We cannot leave such an important resource vulnerable when so many Belizeans depend on it for the livelihoods and well-being," said Bood.
WWF Belize's main goal is for the Government of Belize (GOB) and governments around the world to acknowledge that conservation is not anti-development. By understanding the interconnected nature of Belize's marine ecosystems and the risks/costs associated with threats such as oil spills, only a ban on all offshore oil exploration will ensure protection of our coral reefs.
"Conservation is essential for sustainable development. Safeguarding the long-term benefits that nature provides is in the long-term interests of people. Healthy and natural 'World Heritage' sites can help alleviate poverty, protect against natural disasters, and improve resistance to climate impacts," said Bood.
Throughout the campaign, WWF Belize discussed another top priority to remove the "Belize Barrier Reef Reserve World Heritage Site" (BBRRS-WHS) from the United Nations Educational, Scientific and Cultural Organization (UNESCO's) 'World Heritage in Danger List'.
In the end, Belize needs to realize the relationship people have with nature and what is good for nature is also good for people. It is essential that coastal infrastructure is developed with a small footprint and that Belize's marine systems, which are important to our tourism industry, are protected so not only will it benefit Belize, but foreign corporations too.
Follow The San Pedro Sun News on Twitter, become a fan on Facebook. Stay updated via RSS