Daniel the manatee visits Ambergris Caye
Thursday, June 23rd, 2016
A Antillean Manatee from Mexico has been spotted around the waters near Ambergris Caye. The manatee, named Daniel, was raised in Laguna Guerrero, Chetumal Bay in the Mexican State of Quintana Roo as a rehab manatee since 2003, when he was found as an abandoned new born. Daniel, who is now trying out freedom, has been under surveillance by ECOSUR (Colegio de la Frontera Sur) Environmental Research Centre in the Chetumal area via a Argos satellite tag.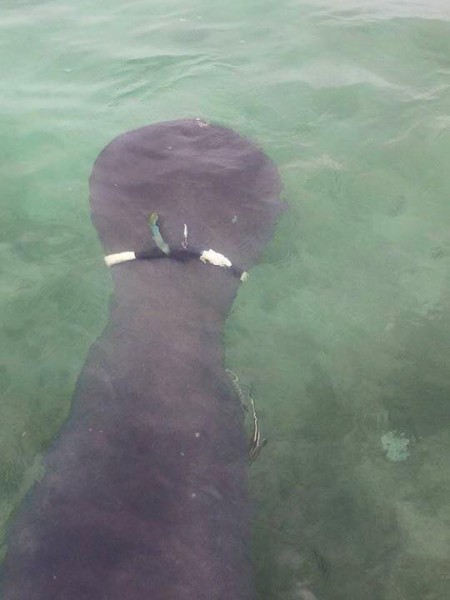 However, along the way the tag became loose and detached, and Daniel went off the radar. As he made his way down to Belize, luckily, he was spotted at the Bacalar Chico Marine Reserve (BCMR) ranger station. This provided the opportunity to replace his tag, ensuring he could be tracked in the future. This was possible due to the good relationship between the Chetumal-based manatee expert Dr. Benjamin Morales, the rangers at BCMR and Hol Chan Marine Reserve.
In his journey to Belize, Daniel made it to a ranch just west of Ambergris Caye, where he mingled with some children. He is very friendly, which according to Jamal A. Galves, – Manateeman, is not good, as hopes are for Daniel to join the wild population. "We are working to keep him as safe as possible. He is very friendly – a little too friendly – and needs to learn to be wild. If you live in the Ambergris Caye/Corozal Bay area, or any other area and see him or any other manatee, please give him his space. Please don't approach him, don't touch him, don't play with him," said Galvez. According to him, his tendency to approach people will put him in danger if he doesn't learn to be more cautious, and interacting with him is not going to help him be successful in the wild.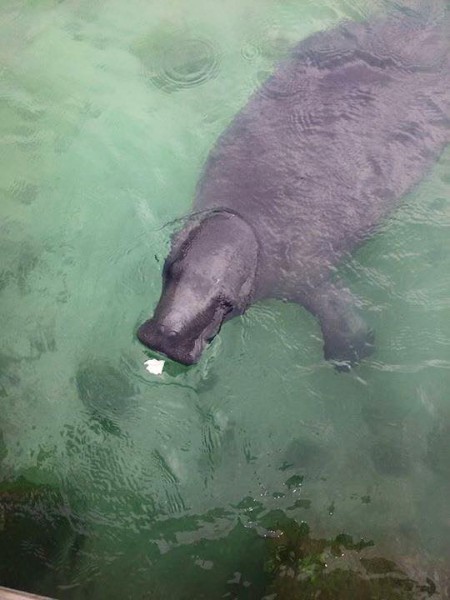 The general public is also reminded that under the Belize Wildlife Protection Act, it is illegal to "molest" a manatee in any way. "Molest" has been defined by the National Manatee Working Group as doing anything that might cause a change in behaviour – such as approaching too close, touching or playing with a manatee.
Special thanks go to the following persons who have been part of the effort in keeping an eye out for Daniel and updating on his whereabouts: Mr. Grimaldo Acosta (BCMR), Nelson Ortega, Darling Ortega, Amilcar Escobar and to the Hol Chan staff for their assistance.
If you see Daniel, or any other manatee with a tracking belt, reports can be made to 650-6578 or the Facebook page; www.facebook.com/wildtracksbelize.
Follow The San Pedro Sun News on Twitter, become a fan on Facebook. Stay updated via RSS