Reporter claims Coast Guard used armed and unnecessary force on him
Friday, November 22nd, 2013
The San Pedro Sun is currently investigating allegations of "unnecessary force" between Senior Staff Reporter Jorge Aldana and Belize Coast Guard officers. Belize Coast Guard Lt. Commander Elton Bennett and San Pedro Police Officer in Charge Luis Castellanos have fully cooperated with The Sun during this investigation.
On Saturday November 16th, shortly after midday, Senior Reporter Aldana was detailed to cover an apparent shooting incident involving civilians and members of the Belize Coast Guard. Aldana located and followed a San Pedro police truck making its way from the Dr. Otto Rodriguez San Pedro PolyClinic II to a lagoon location where a Coast Guard vessel was docked. According to Aldana, he followed the police truck that had three armed Coast Guard Officers in blue uniform and one police officer in plain clothes riding in the pan. The truck was transporting two men seated inside. They were bleeding and appeared to have head injuries. While Aldana followed directly behind the truck he snapped several photos of the individuals who were in the pan of the truck until they reached the end of Jewfish Street. Aldana claims that he stopped approximately 300 feet from where the police vehicle stopped.
"I was then approached by four Coast Guard officials while the others watched from a distance, making a formation that blocked my free passage from any angle. Three of the Coast Guards pointed their rifles at me and one approached me and asked what I wasdoing. I identified myself as a senior reporter with The San Pedro Sun Newspaper. I was then told to put my hands over my head. I asked what was the problem and he said, "Just comply." I put my hands on my head; he removed my phones (two phones)from my front pocket and my wallet from my back pocket. He removed the chip from my DigiCell phone, put it into his phone and then returned it to my phone. He also erased all of the contacts from my SMART phone. They then asked me to lay down on the ground, and put my hands on the back of my head, face down," recounts Aldana. "One Coast Guard put the end of his rifle to the back of my head. He said, "Don't do nothing stupid or I will shoot your 'r*ss'." While on the ground another Coast Guard officer went through my carrier bag which was on the seat of my golf cart, removing everything. While he was trying to figure out how to delete the photos on my camera I turned my head to look at what he was doing and the Coast Guard holding the gun to my head used the point of the rifle to push my face away from observing what was happening and said, 'What dif#%k yu di look pan…look di f#%k straight.' I complied with his orders.All the while the other two officers held their guns pointing at me while I was on the ground. After getting the chip out of my camera and dismantling my digital voice recorder and discarding all of my belongings onto the ground he told me, 'Get the f#%k out before we shoot you.' I just threw everything into my bag and immediately left the scene," detailed Aldana.
Mr. Aldana claims this was done in plain view of residents who came out to see what was happening. In addition, three members from the San Pedro Police Formation were present, even stating to the Coast Guards that indeed Aldana worked for the newspaper. After the incident Aldana immediately informed The San Pedro Sun Editor, Tamara Sniffin, Officer in Charge of San Pedro Police Luis Castellanos and Belize Coast Guard Operations Officer Soberanis about the incident. Approximately one hour later, Aldana received a call from the police station that he could come and collect the memory card from his camera; everything was deleted from the card.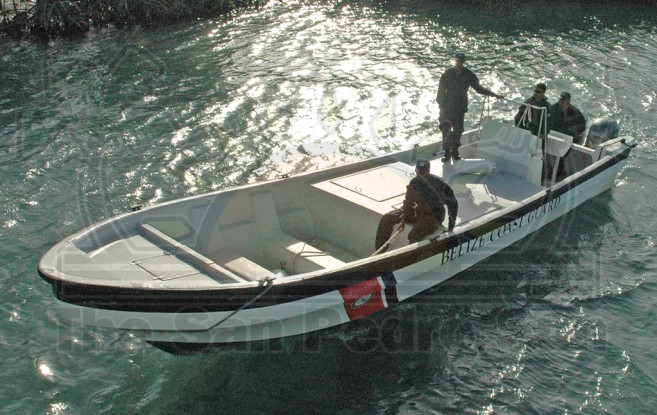 After unsuccessful attempts to communicate with both the Belize Coast Guard and San Pedro Police Officer in Charge over the weekend of the incident, Editor Sniffin was finally able to speak with both Lt. Commander Elton Bennett and OIC Castellanos on Monday, November 18th. She assured them that The Sun understands and respects the need to keep certain photographs confidential, and at any time requested, their reporters are to delete photos that compromise the safety of the officers. However, the use of armed force when asking a reporter to do so is not acceptable. Sniffin also emailed to them a detailed incident report submitted by Aldana to use during their internal investigation. In response to numerous calls from media houses from across the county, Sniffin also issued a press release stating, that The San Pedro Sun, along with Jorge Aldana would reserve further comment until all parties involved could properly conduct their own investigations. That evening in a story aired on Channel 5 News, both Bennett and Castellanos denied the allegations of unnecessary force.
On Wednesday November 20th, Sniffin met with San Pedro Police Officer in Charge Luis Castellanos and one of the police officers who witnessed the incident, Corporal Rodriguez. Although the issue at hand directly involved the Belize Coast Guard, Sniffin had hoped that what the San Pedro police had witnessed could help her understand exactly what transpired. Castellanos reiterated that for the safety of his officers there are times when photographs cannot be shared with the public and Sniffin agreed wholeheartedly. "We [The Sun] are here to help the police, not harm them, and we completely understand when there are times that the photos we take cannot be used," assured Sniffin.In an interview with Corporal Rodriguez, Rodriguez confirmed that the Coast Guard instructed Aldana to put his hands over his head and was then searched. Rodriquez also confirmed that Aldana's bag was searched but he did not see what happened with the camera memory card. However, this is all the further the two agree on what unfolded. "At no time did the Coast Guard pull their guns on Mr. Aldana," explained Rodriguez. "Yes, they were all armed with rifles which they carry on their shoulders but never was a gun pointed at him. He was not asked to lay on the ground with his hands behind his head and there were never any threats to shoot him. What Aldana is saying did not happen that way." Both Rodriguez and Castellanos also stated that the other two police officers who Aldana claims were at the scene at the time did not arrive until after the fact.
Editor Sniffin spoke via telephone with Belize Coast Guard Lt. Commander Elton Bennett on Thursday November 21st who commented, "I continue to conduct interviews and investigate to a certain extent and I have spoken with the San Pedro police. I will say that a very senior Coast Guard officer was present during the incident, someone I consider credible and trustworthy, and this officer reports that no such thing happened. This Senior Officer has told me that yes Mr. Aldana was searched and yes the memory cards on his camera and phones were deleted , but at no time were weapons aimed at him and at no time was he placed on the ground. I will personally continue my investigation in San Pedro in hopes of finding witnesses to this incident. From our perspective these are very serious allegations and if Mr. Aldana's allegations are not true there will be consequences. I will do my very best to be fair in my investigation but these things take time."
In the meantime Aldana maintains that the incident happened as he reported it. The San Pedro Sun continues to work closely with the Belize Coast Guard in investigating the matter.
Follow The San Pedro Sun News on Twitter, become a fan on Facebook. Stay updated via RSS