Cause of Tyson Rodriguez's death in question; did police murder him?
Wednesday, November 27th, 2013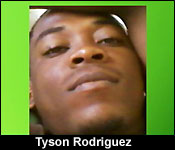 Two simultaneous investigations are ongoing into the death of Tyson Rodriguez, which occurred on Friday November 22nd, in the southern Stann Creek District. Police initially sent out a release claiming that Rodriguez died from natural causes, but the Rodriguez family maintains that Tyson was brutalized by police, then possibly murdered. Police claim that Tyson was arrested after he allegedly invaded the property of Canadian couple 59 year old David Baier and his wife Sonia on the Placencia Peninsula and severely beat Sonia.
The entire ordeal began on Thursday at about 9PM when the Baier's were robbed, beaten on the beach, taken to their house, tied up, their residence burglarized and their GMC Envoy SUV stolen. According to a police report the vehicle was recovered all the way in the Corozal District off a feeder road near Xaibe Village. Police say that Custom Officials saw the vehicle, decided to set chase but lost it in the process. It was later found abandoned by a joint team of Customs and Police Office. Later that morning, Customs officials saw 27-year-old Tyson Rodriguez sitting under a bus stop and identified him as the individual seen earlier in the stolen vehicle. They detained him and others, turning them over to Corozal police, who then transported Rodriguez and his companions to Stann Creek.
After being questioned by police sometime around 10PM on Friday at the Placencia police station, police claimed that Rodriguez agreed to take them to a location. In an unusual report disseminated to the media on Sunday November 24th, police claimed a handcuffed Rodriguez was in the pan of the pickup truck along with other officers when he jumped out of the moving police mobile and while making a run for it, fell into a river. Police claimed he was found floating in the sea about 10:45PM that night by the security guard at a resort located in the general area. Police had ruled that he died from natural causes (drowning).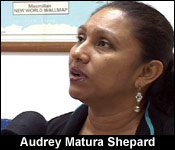 However, a post-mortem conducted by Dr. Mario Estradabran determined the cause of death as "asphyxiation by bronchial aspiration [of] sand – beach type, and multiple traumatisms to chest – trauma type." That, according to attorney Audrey Matura-Shepherd, leads the family to strongly believe that the police are involved in Rodriguez's death. "Tyson's injuries are not consistent with someone escaping from a moving vehicle, nor him trying to swim to escape. Rather a person or persons held his head down in the sand until he could not breathe and thus sand was found in his trachea and bronchial passage and now those same police officers must answer for this," said Matura-Shepherd
As a result of the incident, the Commissioner of Police Allen Whylie has ordered both a criminal investigation and an internal investigation into the circumstances of Rodriguez's death. Meanwhile the Canadian couple has been listed in a stable condition recuperating from injuries to various parts of the body.
Tyson Rodriguez is no stranger to the news. On March 29th, he was shot by Caye Caulker police. Back then, Rodriguez, who is believed to have been mentally challenged, was shot once to the abdomen after he fled from police detention during a house search. He was critically injured but no charges were ever brought against him.
Follow The San Pedro Sun News on Twitter, become a fan on Facebook. Stay updated via RSS