The Belize Police Department reports a decrease in major crime in 2013
Monday, October 21st, 2013
The Belize Police Department has released the latest crime statistic, reporting a slight decrease in crime for 2013 as compared to 2012, and an increase in arrests for the year.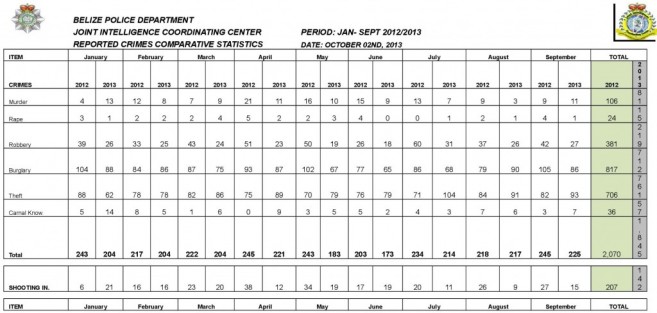 In the months of January to September of 2012, a total of 2,070 crimes were reports as compared to 1,845 that have been reported from January to September 2013. The numbers show that major crimes have decreased by an estimated 11%, and has fallen is all districts except Stann Creek and Toledo. Those districts experienced a rise in major crime.

Murder rates are also down. Since January to September 2013 there have been 81 murders, 25 fewer than the same period in 2012. The Belize District still remains with the highest murder rate, with 51 cases reported in 2013.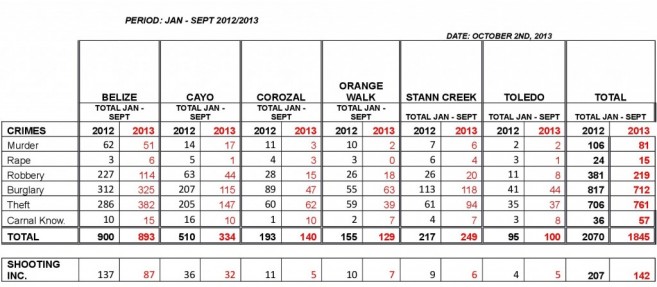 Carnal Knowledge on the other hand recorded a significant increase of approximately 53%. In 2012 from January to September, 36 cases of carnal knowledge were reported. 2013 presented a bleak case, with 57 cases reported over the same period of time. There was also an increase in theft, 761 recorded from January to September 2013 as compared to the 706 cases reported in 2012 over the same time period.
The Belize Police Department states that if the trend continues through October, November and December, 2013 will have reported less criminal activity than 2012.
Follow The San Pedro Sun News on Twitter, become a fan on Facebook. Stay updated via RSS