Head of Coast Guard apologizes to Senior Reporter Jorge Aldana
Tuesday, December 17th, 2013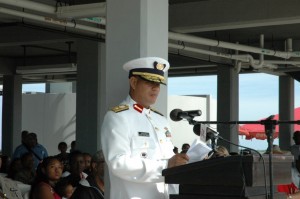 Head of the Belize Coast Guard Rear Admiral John Borland apologized to The San Pedro Sun Senior Reporter Jorge Aldana regarding an unfortunate incident that took place on November 16th. The apology was made on Friday November 29th following an interview with the press at the event of the inauguration of their San Pedro Town facility.
On November 16th, Aldana had claimed that a few Coast Guard Officials intimidated him, pointed guns at him, deleted his pictures from his camera, deleted his contacts from his cellular phone and was subject to a search as he was performing his journalism duties. Following the incident, Coast Guard Lt. Commander Elton Bennett did agree that a search was conducted and that his pictures were deleted but denied that guns were ever pointed at the senior reporter. He said that the Coast Guard officials were on a special assignment and that the pictures taken could have compromised the identity of the officers.

In apologizing, Borland called the ordeal "an unfortunate incident" and assured Aldana that if any of the officers are found to have used unjustifiable actions towards him, those found guilty would be dealt with. The two gentlemen shook hands and Aldana accepted the apologies offered by Borland and said that he looks forward to a better working relationship with the Coast Guard.
On the day of the incident, Aldana was out following a story in which Coast Guard Officials shot and injured a civilian during an operation on northern Ambergris Caye. On December 10th, Bennett said that they were intercepting a drug transaction but were unsuccessful. While up the coast, the Belize Coast Guard said that they came under fire. While returning fire, 24-year-old Frank Edwards was shot in the left buttock, with the bullet exiting the left hip. Edwards, along with 20-year-old Leonardo Williams and 22-year-old Guillermo Salazar, all fishermen from San Pedro Town, were detained. Since the incident, no charges have been brought against the men and they have since then been released.
Follow The San Pedro Sun News on Twitter, become a fan on Facebook. Stay updated via RSS