No leads on the murder of Sylvin Chi and Benjamin Molina
Thursday, February 26th, 2015
San Pedro Police have no leads in the double murder of 41-year-old Sylvin Chi and 23-year-old Benjamin Molina that occurred on Wednesday, February 18th, 11 miles north of San Pedro Town. The men's bodies were found in a single grave about one and a half feet deep, about 50 yards from the beachside. Police found the grave by following what appeared to be remnants of blood in nearby bushes on the north side of the road. While police are not sure for the reason for the murder, they believe it to be drug related as the area is known to be trafficked by beach combers looking for drugs (playadores).

Initial investigations from the police revealed that on the same date, at around 11:30PM, 51-year-old Jose Wagner reported that two of his coworkers (Chi and Molina) had gone missing since Tuesday, February 17th at 5AM. Wagner indicated that the men had left to go find coconuts and had not returned since. Officer in Charge of the San Pedro Police, Superintendent Luis Castellanos stated that as a result a search was launched in the area where the men were last seen. "When the police visited the area, 11.5 miles north of the island, they found what appeared to be blood. As a result, the officers concentrated their search in that area which led to the discovery of the grave 50 yards from the beach side. When the grave was dug up, police found the bodies of the two men that had been reported missing," said Castellanos.
With the assistance of the Belize Coast Guard, police processed the scene. Both persons had apparent gunshot wounds to the head among other injuries. "Chi was noted to have several bruises around his right upper body, while Molina had a dislocated right arm and a small cut to the right side of his neck. We know that the area is known to be trafficked by beach combers, but we cannot ascertain that it is related to the murder. The area is very remote, so it difficult for us to determine the events that occurred there. We did recently have a committal warranty for Chi for his arrest because he owed the court for charges on the Possession of a Pipe. So we do know he is a drug user, but whether he was involved any further would just be speculation. With the limited information we have gathered, the case does seem to be drug related, but once again we cannot ascertain that," said Castellanos.

One of Molina's relatives, Ernildo Jones who took him in and was caring for him as a father, stated that police are not doing their best to catch the criminals. "He had told me that he wanted to go find coconut oil. I gave him $150 and he went up north to get the oil from Chi, who works with him. We didn't want him to go because we loved him, but he still went on Sunday, February 15th and this is what happened. From the state that his body was found, I believe that my son was tortured. I feel that the police are not doing their job. We have given them information on what we are hearing on the murder, yet they do nothing. I believe that there is some money involved in this. I talked to the police and they say that they can't do nothing because there isn't any proof," said Jones.

Chi's sister Margarita Chi stated that the family is still shocked at the murder of her brother. "Police just came to the house asking for identification. When we asked for what, they told us that they needed a photo to identify a body believed to be my [that of] brother. The last time I saw my brother was on Wednesday, February 11th. He had told me that he was working for Moses Campos and he told me that Campos had taken him out of jail-because my brother was in jail. He told me that his bosses had told him to go up the coast, we warned him, but he didn't listen. I don't want to hear nothing about coconuts because that is not true. I went to Campos house to get my brothers things and he told me that all my brother's things are up the coast. So if he knows all of these things he must be involved. I believe that he was killed because of drugs. He used to go up the coast to find drugs," said Chi. She indicated that police have been refraining from providing information. "Police have not been telling us nothing. I did not see my brother. When they were burying him, police asked us to stay across the street until after they were buried. We want justice. The people need to talk, they can't blind the police from information or else nothing will happen," said Chi.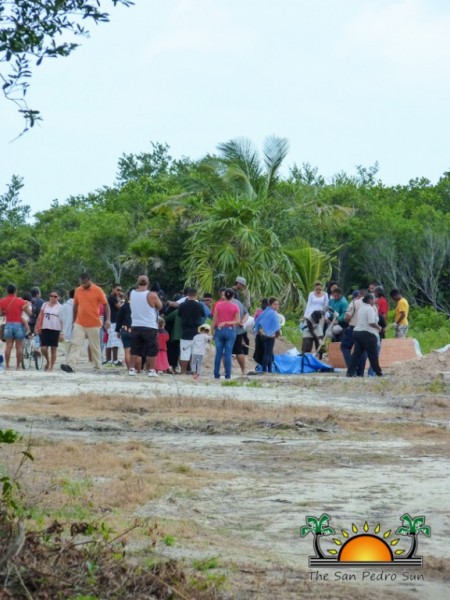 Molina was originally from Corozal Town and had a girlfriend who is expecting his child. Chi was originally from Libertad Village in the Corozal District and is predeceased by two daughters. Chi and Molina were buried at the southern cemetery in Ambergris Caye.
Police investigations continue.
Follow The San Pedro Sun News on Twitter, become a fan on Facebook. Stay updated via RSS