Assault and Robbery at Sea
Sunday, January 24th, 2016
On Wednesday, January 13th, the Caribbean Safety and Security Net (CSSN) reported that a vessel visiting Middle Long Caye in the Turneffe Atoll was invaded, robbed, and a female guest sexually assaulted. The report is quite shocking, especially since Police did not report the incident immediately. If it wasn't for the CSSN public report, the incident would have probably gone under the radar. With news of the incident now out, Belize police have finally addressed the incident.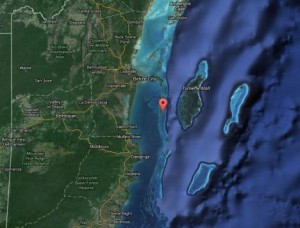 The CSSN report stated that an unidentified vessel came alongside the anchored visiting boat, while everyone aboard was asleep. "Four men in 20-30 age range came aboard, each armed with a pistol. One female guest was sexually assaulted, and later treated at the local hospital. Cash, camera, computers, food, drinks, jewelry, and an outboard motor were stolen. The launch left at high speed in a southwesterly direction. The entire event lasted about 45 minutes, and was reported to the Police, Coast Guard, Port Captain and marina," said CSSN's report.
In their address, Belizean authorities confirmed the incident but said that there was never any allegation of sexual assault against any of the victims. "I am aware of the report. I do know that the boat had been processed and we've conducted some searches which led to one suspect in custody. Some items reported stolen have been recovered," said Commissioner of Police, Allen Whylie. As for the allegation of sexual assault, police have indicated that a medical examination revealed that the female victim was never sexually assaulted.
Since the incident, police have recovered a number of items reported stolen from the vessels. The stolen items were found in the possession of 20-year-old James Emmanuel Cortez and 45-year-old Florita Pineda. After investigations, police charged Cortez and his 22-year-old friend, Bradwick Lino for the crime of 'Handling Stolen Goods. Both persons were arraigned by Magistrate Carlon Mendoza where Cortez pled innocence and was granted bail at the sum of $1,500. On the other hand Lino pled guilty to the charges and was subsequently sentenced to three months imprisonment.
CSSN's report is posted at www.safetyandsecuritynet.com/recent_incidents.
Follow The San Pedro Sun News on Twitter, become a fan on Facebook. Stay updated via RSS