Fatal stabbing in Caye Caulker leaves one dead and one injured
Tuesday, October 22nd, 2019
The Marin family in the village of Caye Caulker is grieving the tragic death of 17-year-old Isaac Marin.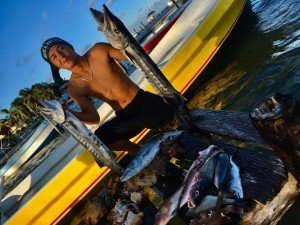 He was stabbed to death while he slept sometime after 1AM on Tuesday, October 22nd, by his mentally-challenged cousin, Jaymie Marin. According to reports, his brother 25-year-old Carlos Marin tried to intervene but was injured.  While Carlos was stabilized and transported to the Karl Heusner Memorial Hospital in Belize City, his brother died undergoing treatment at the Caye Caulker Polyclinic.
Police have detained Jaymie Marin as investigations into the tragic incident continue. According to an official police report, the murder took place around 1:30AM at Marin's residence on Luciano Reyes Street. Jaymie allegedly attacked his cousin by stabbing him in the chest. Carlos tried to subdue Jaymie without success. During the struggle, Carlos sustained several stab wounds, and he was transported to the KHMH in Belize City, where he is reportedly in stable condition.
The Marin family is devastated and trying to cope with their tragic loss. Caye Caulker Chairlady, Seleny Pott-Villanueva, extended her condolences. She stated that such incidents shake the tranquility of La Isla Carinosa and is looking forward to the results of the police investigation. On behalf of the Village Council, Villanueva offered to assist the Marin family in anything they can during this difficult situation.
This marks the first reported murder in Caye Caulker for 2019.
The San Pedro Sun extends sincerest condolences to the Marin family.
Follow The San Pedro Sun News on Twitter, become a fan on Facebook. Stay updated via RSS