Four men charged for arson
Thursday, June 12th, 2014
San Pedro Police investigation has led to the detention of four men after an incident regarding arson and damage to property. The men have been identified as Abendigo Rochez, Elroy Williams, Daniel Tzib and Armando Escalon. The incident occurred on Tuesday, June 3rd at about 1:30AM at Coral Reef Villas, located on Seagrape Drive. According to police investigation, the culprits had not only attempted to burn the apartment unit of Edwin Maradiaga, but had also vandalized the unit.

Initial investigation revealed that Maradiaga was awoken by knocking on the door of his apartment. When he looked outside his bedroom window, he saw two men on his verandah. Maradiaga stepped into the hallway of the apartment to further check what was going on. His roommate, Rafael Mazier had also come out of his room after hearing the knocking. Maradiaga decided to call the police and while on the phone, bottles were thrown through his bedroom window breaking the glass. The two men moved to the south side of the apartment to take cover and noticed that a red golf cart was rapidly driving in a southern direction.
About 20 minutes later the red golf cart returned and was parked in front of the apartment building. More bottles were being thrown at the window after which the golf cart left once again. At around 2:30AM the golf cart returned and someone on the cart threw something through the window which exploded in Maradiaga bedroom.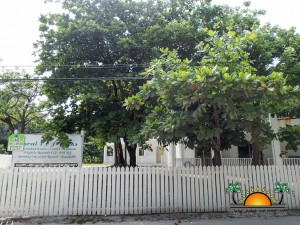 Maradiaga and Mazier went to check what had happened, but they only saw that the hallway was engulfed in smoke. They quickly asked for assistance from the neighbors, who helped extinguish the fire with water. The fire had damaged the one mattress, one bed frame, one chest of drawers and three ceiling fans, all belonging to the landlord. The total damage to the apartment amounted to $2,000BZ.
The Quick Response Team (QRT) responded and chased the culprits on the golf cart through the streets of the San Pablo Area, firing several warning shots for the culprits to stop. After several minutes of chase the golf cart was cornered in a dead-end alley and police made the appropriate arrest of the four men. They were escorted to the Police Station and detained, but were later released. Police re-arrested the men on Tuesday, June 3rd, charging them with arson. Other charges are pending.They were offered bail in the sum of $6,000 or the surety of $6,000, which they were all able to meet. They were released on bail and are expected on July 24th for their next court appearance.
Police believe the motive of the attack was revenge over a business commitment gone wrong.
Follow The San Pedro Sun News on Twitter, become a fan on Facebook. Stay updated via RSS