Innovative ideas showcased at SPHS 2016 Business Fair
Saturday, April 23rd, 2016
The junior and senior business students of San Pedro High School (SPHS) displayed their entrepreneurship skills at the 2016 SPHS business fair. On Saturday, April 16th, students showcased business ideas at the Angel Nuñez Auditorium. The event is aimed at developing businesses that can benefit Ambergris Caye, and students were tasked to form their businesses and products with the responsibility to prove that their projects could benefit the local economy.

The fair started at 9AM and was open to the public. Each group of students prepared an elaborate booth to display their project. Students developed innovative products and services that are not commonly seen on the island. The senior students even had the opportunity to sell their products, experiencing the first-hand economic result of their creativity.

According to Alex Nuñez, Dean of Discipline and fair organizer, students were responsible for identifying a product, creating a business, identifying a location, securing funds, preparing a business plan and marketing their product. Judges would then take this criteria into consideration when evaluating each project. "The students definitely let their creativity flow in their unique projects," said Nuñez. "I believe it is a good idea to do this event every year. It creates awareness for the residents to come and see the students from our community showcasing the different business ideas they have."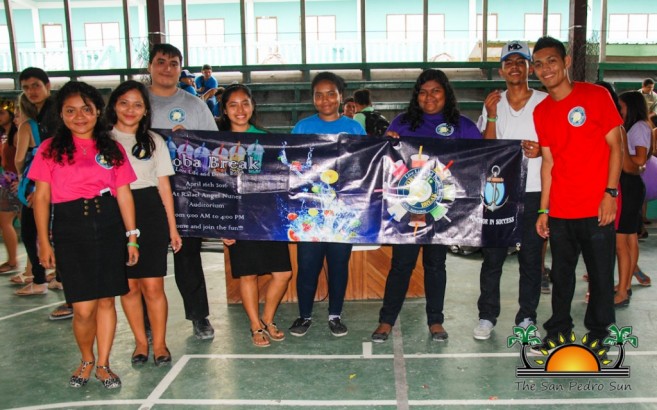 The fair displayed a variety of ideas, from recreational activities, to eateries and non-alcoholic beverages. Throughout the day, a group of judges visited each booth and scrutinized it by testing the students' knowledge on their projects.

At the end of the day, the top three groups were recognized at the fair. In the junior group third place went to the team from 'Smart Start Day Care.' In second place was 'New Set,' for creating a business consultation firm. In first place was, 'Jungle Splash,' for creating a jungle water park model which would provide the ultimate adventure in water entertainment.

For the seniors, there was a tie in the second place. Both groups taking the second place were San Peezy Ice Cream Parlor, and Island Memories for creating different accessories for the home. First place went to 'Boba Drink' group, who create a refreshing drink that gave an exciting experience with each sip.
All winners received generous cash prizes donated by SPHS.
The San Pedro High School would like to thank all the judges for donating their time, as well as the entire community for coming out and making the Business Fair a great success.
Follow The San Pedro Sun News on Twitter, become a fan on Facebook. Stay updated via RSS