Belize's environmental giant Lionel "Chocolate' Heredia memorialized
Saturday, April 20th, 2013
On April 12, 2013, Belize lost a giant in the conservation world in the person of Lionel "Chocolate" Heredia. Chocolate passed away in Caye Caulker around 1:30PM on that Friday afternoon, with his beloved wife Annie by his side.
His death is a significant loss to Belize as he impacted the country and the tourism industry in ways that are so far-reaching. Of special significance was his fight for the Swallow Caye Manatee Reserve.
Lionel "Chocolate" Heredia, Sunrise: July 7, 1929 – Sunset April 12, 2013. May he rest in peace.
On Saturday April 20th, family and friends will gather at Caye Caulker Village in front of his residence at 1PM to celebrate his life. His ashes will be scattered around Swallow Caye on July 7th, a date that coincides with his birthday. The San Pedro Sun joins the Belizean community in expressing condolences to the Heredia family and his friends. In honor of his contribution and in celebration of his life, we take the opportunity to reprint an article printed on our July 26, 2007 issue of the newspaper featuring a passionate, nature-loving Heredia.
July 26, 2007 – Imagine having a passion for something that throughout the years does not flicker but instead flames up. Imagine working tirelessly through the years, fighting what may seem like an uphill battle, one that subconsciously you may be thinking, it is not worth it. Our feature of this week has done just that, his flame burns higher and brighter year after year, and even though it is an uphill battle, it is one that he is willing to fight. Conservation has been a key issue and one that he has valiantly taken up. His efforts were applauded when Swallow Caye was named a Wildlife Sanctuary. This week, we present to you, James Waight Conservation Award winner, Lionel "Chocolate" Heredia.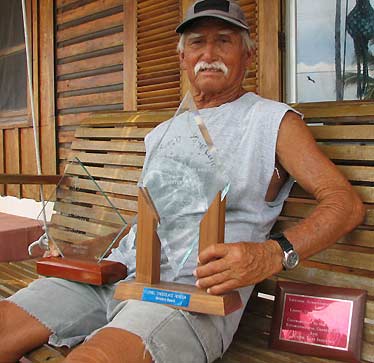 Born on the tiny island of Ambergris Caye, Chocolate grew up enjoying his life by the Caribbean Sea. His nickname was earned when he displayed his negotiation skills by trading his mother's sweet bread, which he was assigned to sell, with chocolate candies. Although Chocolate did not receive a formal education, his adventures and life experiences have earned him whatever he's missed during school lectures. From a young age, he has loved nature and the environment; this love spurred his first actions as a conservationist. His first "save the environment" actions were when he kept a vigilant eye over the turtle hatchlings, keeping predatory birds away by hurling small coconuts at them.
As a teenager, Chocolate began his career in commercial fisheries. This direct interaction with the sea fostered respect for this environment. These years were the most formative in his development as a local environmental enthusiast, as he came to the realization of how deeply his livelihood was entwined with the continued health of the sea.
Chocolate took to boating early, becoming a fisherman by his 18th birthday. Struggling to make a living, he moved to Belize City, called then the old British Honduras (Belize gained independence in 1981), he tried his hand at numerous jobs in and around dusty Belize City, but it wasn't until the mid-1960s that career inspiration struck.
Chocolate was asked to ferry an American out to the warm waters off-shore to take a look at the herd of Antillean manatees – lovably large, stodgy sea mammals related to the dugong, that were often wishfully mistaken for mermaids by ancient sailors. An idea bubbled to the surface and Chocolate's new career change was just a tour boat away.
Since setting up business in 1968, Chocolate has been plying the waters on regular trips to see the manatees. These strange, lumbering creatures have become his passion as well as a source of income and Chocolate has become the country's most vocal advocate for increased funding and patrols to protect the manatee's habitat and food supply.
Trading the bustling city life, Chocolate moved to Caye Caulker. There he kept offering his tours and also transported people to and from the island and the city. This gave way to the formation of the Caye Caulker Water Taxi Association. In 1982 he opened his gift shop, offering knick knacks to visitors of the island and seeing the need for accommodations, Chocolate went on to open a guest house in 1992.
Chocolate has immersed himself into various conservation efforts, which range from attempting to stop hunters from shooting egrets at Bird Caye to trying to convince his fellow tour operators to shut off their motors at various manatee sites. The efforts of this remarkable man have not gone unnoticed as Mr. James A. Waight himself appointed Chocolate, Honorary Warden at Bird Caye, Northern Lagoon.
Chocolate has worked extensively to protect the manatees and his natural habitat. His fight received much praise and recognition when Swallow Caye Wildlife Sanctuary was signed into legislation on Wednesday, July 10, 2002. The Swallow Caye Sanctuary lobbying efforts began in 1998 and with tears in his eyes, Chocolate accepted his personal copy of the statutory instrument at a special ceremony.
On February 16th, 2003, Chocolate was once again honored when he received The James Waight Conservation Award. This award has evolved to become the most prestigious Belizean award for conservation and it certainly was a testimony to the greatness of this man whose entire life has been dedicated to the service of his country and his people. "Mr. Heredia exemplifies what it means to be a conservationist. He has proven that it is not formal education that makes you an effective conservationist, but one's love for his environment and his dedication to its protection," commented Valdemar Andrade, Executive Director, during the official ceremonies.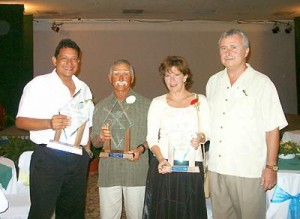 The Lifetime Achievement Award presented by Minister of Tourism and the Belize Tourism Board was handed to Chocolate on December 5, 2003. He was described as a man who has displayed much resilience and determination in executing many initiatives that have positively impacted our tourism industry. Chocolate's signature hospitality has made many tourists return to Belize, just for a chance to interact with him and hear his stories. Chocolate, "rightfully deserved this award for being a humble and passionate man, and is a true stalwart of the tourism industry."
Founding member of the Caye Caulker Branch of the Belize Tourism Industry Association and of the Caye Caulker Water Taxi Association, as well as founding member and past president of the National Association of Specialist and Interpretive Guides, Chocolate also founded Friends of Swallow Caye. This organization won the "Community Based Organization of the Year" for 2006-2007.
During his free time, Chocolate enjoys spending time with his wife, Annie, in the quiet village of Caye Caulker which he calls home. He loves sharing his stories and disseminating his knowledge of Belize's environment with all. A proud father of Sandra, Cynthia, Leila, Deborah, Maria Lus and Noah, Chocolate is a "legend" on Caye Caulker. An avid conservationist, nationally recognized for his work with manatees and establishing the Swallow Caye Manatee Reserve, Lionel "Chocolate" Heredia's passion is one that just won't quit as he continues protecting the environment in "Our Belize Community."
In June of 2012, Heredia was presented with the Ocean Hero Award from Oceana in Belize for his lifetime service and dedication to marine education and advocacy and promoting sustainable use of Belize's marine resources. His work as a conservationist for the sea manatee is a true example of being a leader and role model in the protection of the ocean's precious creatures.
Follow The San Pedro Sun News on Twitter, become a fan on Facebook. Stay updated via RSS