STP projects on Ambergris Caye are moving forward
Tuesday, October 8th, 2013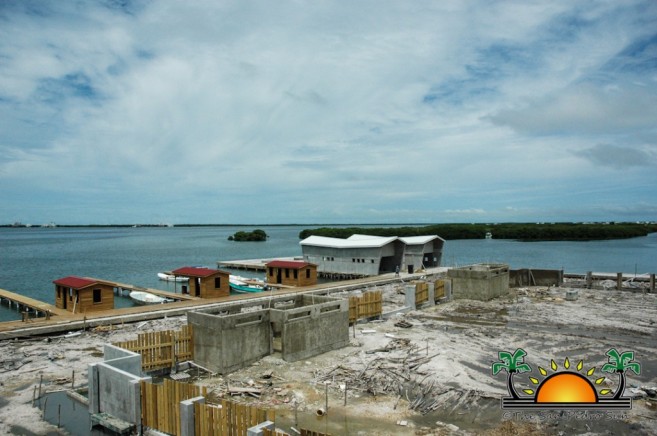 The San Pedro Sunset Boardwalk and Water Taxi Terminal Projects are expected to be completed by November 2013. Despite major opposition by a sector of the Ambergris Caye residents, ground was broken in June of 2012, 14 months ago. Terry Wright from the Sustainable Tourism Project (STP) Unit said that up to date, the project is going well and it not too far away from completion. He explained that 100% of the lagoon area for the field has been reclaimed, and the top layer of sand fill is currently being spread. In addition, 100% of the water taxi concrete platforms, complete with masonry work, roofing and rendering of terminal building walls, is finished. Wright said that the wooden picket sections of the perimeter fence have been installed, with only the top portion underway.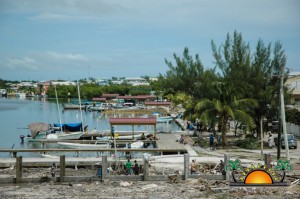 Wright also indicated that the promenade works along Nurse Shark Street is 90% completed, three boat ramps are constructed, and additional curbing and drain structure is underway, as is the construction of public bathrooms. "A local consultant is currently being contracted to assist with the start-up of the management and operations of the new facility upon completion," said Wright. "To date the construction contractor has been extremely accommodating of the public events traditionally held at the old football field, such as the Costa Maya festival, Miss San Pedro Pageant and the Independence Celebrations. Despite these slight disruptions to the construction schedule, completion is estimated for mid-November 2013."
The STP Unit is coordinating with utility companies and the contractor is ensuring that all necessary water and sewage connections are in place prior to cementing the road.
Wright also gave an update of two other projects, one in the Bacalar Chico Marine Reserve area and the Land Use Development Plan for Ambergris Caye. "In partnership with the Fisheries Department and Forest Department, construction activities for an Ecolodge and Educational Center at San Juan Maya Site at the Bacalar Chico National Park and Marine Reserve have also commenced, under contractor International Environments Limited. As part of the management support efforts, two boats have been procured for use by the management entities at Bacalar Chico, two rangers have been hired, and buoys and markers procured to assist in demarcating the marine reserve. In addition, a planning consultancy to create Land Use Development Plans for Ambergris Caye is well underway, with baseline data collection and mapping nearing completion. Public consultation is anticipated in late October."
The San Pedro Sunset Boardwalk and Water Taxi Terminal, which is estimated to cost $5.69 million is one of four projects under the Sustainable Tourism Project financed under a US $15 million loan from the Inter-American Development Bank. The Education Center in the Bacalar Chico Marine Reserve, which is divided into two phases, is estimated at US $13.322 million.
Photo Gallery
Follow The San Pedro Sun News on Twitter, become a fan on Facebook. Stay updated via RSS