ReefCI receives Global recognition at the World Responsible Tourism Awards.
Friday, November 15th, 2013
Highly commended for Best for Responsible Wildlife Experiences goes to Marine conservation organization ReefCI at the 2013 10th Annual World Responsible Tourism Awards.
The winners and highly commended were announced at the World Travel Market (WTM) exhibition in the UK to an audience of tourism ministers, destination managers, industry professionals and media.
The WTM exhibition, held at Excel, London on 4-7 November 2013 is the leading global event for the travel industry.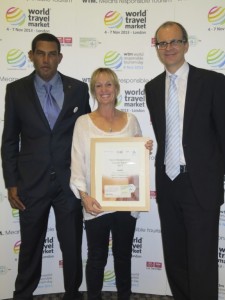 This is a huge acknowledgement for Belize and Toledo, we have shown the world that Belize is not just an incredible destination but we also take responsible tourism very seriously.
The awards panel of judges pre-announced:
'We are focusing on organizations that are both committed to wildlife protection and to providing their guest with memorable experiences tourists will talk about and share with friends and family when back home.
We are looking for organizations that have found the right balance between protecting wildlife and providing great experiences to holidaymakers. Their ideas and practices should be an inspiration to companies trying to achieve the same.'
The judges recognized the contribution, which ReefCI makes to conservation both through the quality of the guest experience and the data, which they collect on species and number. The quality of the data on contribution to the local economy through employment and local sourcing was also noteworthy. ReefCI is working with the department of Fisheries in Belize to help protect the marine life and sustain fish stock and fishing. The data they collect assists fisheries with their allocations of open and closed season regulations, which helps conserve commercial species such as conch and lobster.
Polly Alford, Founder of ReefCI said:
'Winning this award and being in the top 3 in the world, means so much to a small organization like ReefCI. Thanks to Responsible travel for organizing the event and to the team of expert judges for recognizing our contribution.
This award is not just fantastic for ReefCI but also for Belize and the Toledo district. Toledo has so much to offer our tourists, the hidden jewel of the South. I very much hope that this award helps increase tourism for our local hotels, lodges, guest houses, restaurants, tour operators and tour guides. And, that the off set of that is an increase of revenue for our local suppliers, taxi's, street vendors and stores.
I am very grateful to BTB, BTIA, Department of Fisheries, Hickatee cottages and all of our local supporters. It's their shared passion for our country that has hugely contributed to this incredible recognition!'
Follow The San Pedro Sun News on Twitter, become a fan on Facebook. Stay updated via RSS