BEL makes effort to accommodate Ospreys
Friday, March 10th, 2017
In an effort to provide better service to Belize Electricity Limited's (BEL) customers, a power interruption was scheduled on Saturday, March 4th for San Pedro Town and Bomba Village on the mainland. The purpose was to remove problematic osprey nests that have caused power outages in the past. In less than two hours, BEL teams, comprised of work crews, supervisors and BEL's Environmental Specialist, managed to successfully remove the empty nests from the transmission structures in Bomba Village and at the southern end of Ambergris Caye.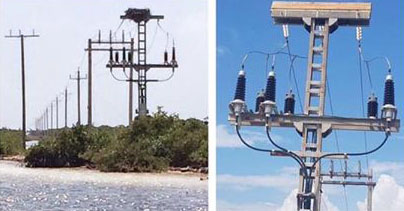 BEL's transmission team got a head start by working a day prior to the interruption, and after researching an effective design, new nest platforms were constructed and installed. Although the start time for scheduled work was delayed to 8:40AM on Saturday, the wait was well-worth it! In Belize, osprey are mainly found on the northern cayes and mainland coastlines. As such, osprey build their nests on high platforms that are either natural or manmade, such as on BEL power structures.
According to Vonetta Burrell, BEL's Manager of Public Relations, the company has been aware of the osprey nests on the transmission structures in both areas. "We have been monitoring the wildlife activity. So to better manage reliability for customers, and take care of wildlife in Belize, we installed platforms for the birds to build their nests, away from the power system. These nests have caused power interruptions in the past, but now, we have an alternative option for the birds to build their nests. We will continue to monitor the activities of osprey in the area," said Burrell.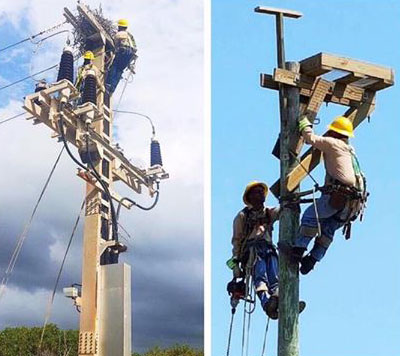 BEL informed its customers via Facebook after the task was completed. Many community members thanked and congratulated BEL for their environmental stewardship and efforts to protect wildlife. "Kudos to BEL and the people who came up with the idea. You have demonstrated responsibility to the environment of which we are all part of. Again I just like this. A big first from our three utilities. This is progress and development," said Karl Leacock.
BEL is committed to providing reliable service to its customers in an environmentally responsible manner. This commitment is guided by the Company's Corporate Environmental Policy, which ensures that it "incorporates environmental issues into decision-making to meet present needs without compromising future generations." The accommodation of the birds had to be taken into consideration without causing detriment to customers.
If you see an osprey nest on or near power lines or poles, BEL encourages the public to call toll free at 0-800-BEL-CARE (0-800-235-2273) or submit queries or concerns via Facebook at facebook.com/BelizeElectricityLimited
Follow The San Pedro Sun News on Twitter, become a fan on Facebook. Stay updated via RSS