Santander to provide BEL with cheaper power supply
Friday, December 23rd, 2016
On Tuesday, December 13th, Belize took a major step in becoming self-sufficient in energy production after signing a 15 year agreement between Belize Electricity Limited (BEL) and SS Energy, a subsidiary of the sugar producing company, Santander, located in the Cayo District. This new source of electricity supply to the national grid is expected to continue improving the quality and reliability of BEL's power services nationwide.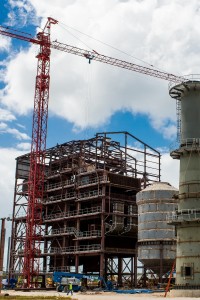 At the signing ceremony in Belize City, John Avery, Chairman of the Public Utilities Commission (PUC), explained that the project has been in the works since 2013, when Santander was selected as one of the bidders to negotiate with BEL for power purchase. "Belize has the least capacity for local power production in the first six months of the year," said Avery. "This additional source of electricity will now greatly improve the sustainability of our electricity service."
The initial agreement is for the supply of 16 megawatts of power, which is scheduled to start on February 1, 2017. The power purchase agreement for now will be for just 8 megawatts, which is expected to yield between 18 to 25 million kilowatts per hour. According to Avery, there are provisions that, with a redesign of operation, prices in electricity may go down as low as 10 cents per kilowatt hour. He added that BEL will be purchasing power from Santander at a fixed rate between 16.5 to 18 cents and in contrast to other power suppliers, all payments will be made in Belizean currency.
Ernesto Gomez, Senior Manager of Energy Supply to BEL expressed his satisfaction with the new partnership. "The uniqueness of this project is really assisting us in upgrading our management of power for the country," said Gomez. "During the dry season, we normally try to conserve water for emergency purpose in the hydroelectric reservoir of the dams. With this new addition we will manage to better reserve the water for the dams, causing less strain on the hydroelectric power."
The CEO at Santander Group, Jose Rodriguez indicated that the energy they will be selling to BEL is clean and environmentally friendly. "It's a renewable source that doesn't burn any fossil fuels," he said. "It is going to help reduce greenhouse gasses, making Belize a country that is helping in that matter."
With the agreement now sealed, SS Energy will supply Belize with 10% of peak capacity power supply during the first phase of energy delivery. During the second phase, the supply will almost double, becoming the second cheapest power source in the country after hydro. Meanwhile, one of the high cost sources of power besides Mexico, comes from BELCOGEN with 21 cents per kilowatt hour. This company has already served notice to the PUC requesting to increase their rates in 2017.
Follow The San Pedro Sun News on Twitter, become a fan on Facebook. Stay updated via RSS