Third whale perishes in Belizean waters
Friday, September 8th, 2017
The site of a dead sperm whale on Belize's southern waters on Monday, August 28th, raised concerns as to what is happening to the whale population transiting through the region. The unfortunate discovery near the Silk Cayes in the Stann Creek District marks the third whale known to die in Belizean waters since April of 2016. As such, Belizean marine conservatives are trying to find out what is causing the death of these huge sea mammals that stray away to the country's shallow shores.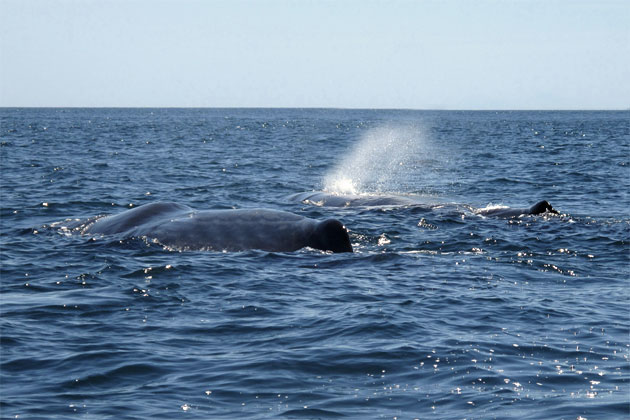 The first incident was reported on April 22, 2016, when a Humpback whale was spotted off the coast of the village of Barranco in the Toledo District. According to Oceana in Belize, when their personnel arrived at the area, the whale was in distress and it is believed that it was lost of sick. A further inspection on the mammal revealed that it was being hampered by a gillnet, which was wrapped around its tail. Such gillnets according to Belizean fishermen, belonged to foreign fishermen who illegally fished in Belize's most southern waters.
Oceana Vice President, Janelle Chanona explained at the time the danger of gillnet fishing. "Gillnets may look innocuous, but as this incident highlights, even a whale can become entangled in and become affected by one," she said. The fishing practice is yet to be completely banned in the country, while different environmental organizations continue to advocate towards sustainable fishing and the abolition of using such fishing nets.
Then a little over a year later, on August 18th, another whale died south of Punta Gorda Town in Toledo. The Toledo Institute for Development and Environment (TIDE) reported that it was a Baleen whale measuring 30 feet, which was beached as local fishermen tried to dislodge it from the shallow waters. According to TIDE, a fisherman said that the whale was making efforts to swim out to the deep sea for at least three hours before it died. They also noted that blood was coming from the whale's blowhole and one of its fins seemed injured.
Local authorities started an investigation to try to find out what is causing these whales to stray into the shallow waters. However, before they could conclude, on Monday, August 28th a Sperm whale was found dead in southern Belize. In view of these recent incidents, Oceana's Chanona suggested for environmental organizations and other entities to come together and come up with a cohesive response in order to determine the causes of death. "I think it is really highlighting that we need to determine if it is plastics doing this [and/or] boat strikes," said Chanona. "We know that there is increased marine traffic. These whales travel significant distances and they may come into collision with large shipping vessels or seismic activity that has been the cause for negative outcomes with marine creatures." The whale was said to be a juvenile of 30 feet long.
For its part, TIDE stated that samples from the dead whales were collected in order to determine the ultimate cause of death. They also indicated that as soon as they have results, they will share them with the public.
Whales are known to travel great distances during migration season. Some whales travel to tropical and subtropical waters to breed and give birth. Some of these mammals can weigh up to 79,000 pounds. Depending on the species, whales live on a diet of krill and small fish, can grow to more than 50 feet in length and are said to live up to 50 years. In several countries whales are protected by moratoriums, but they continue to be in danger by entangling in fishing gear, ship collisions and noise pollution.
Follow The San Pedro Sun News on Twitter, become a fan on Facebook. Stay updated via RSS