GOB settles with Fortis on 2011 BEL acquisition
Wednesday, September 2nd, 2015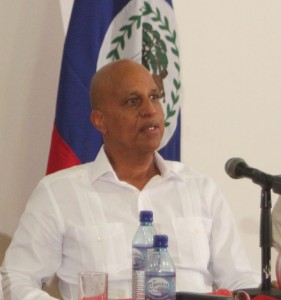 On Wednesday, September 2nd, the Government of Belize (GOB) introduced a Bill in the House of Representatives and passed it through all three readings on the same day. The Bill formalizes a US$35 million dollar settlement with Fortis, as compensation for government's acquisition of Fortis' 70% shareholding of Belize Electricity Ltd (BEL). GOB sweetened the deal with a 33.3% shareholding in BEL, but the cash settlement was barely a tenth of the over US$300 million dollar value that Fortis had demanded as compensation when GOB nationalized BEL in 2011.
The Bill goes to the Senate for final approval on Friday, September 4, and Governor General Sir Colville Young should sign the Bill into law on Monday, September 7, making possible the disbursement of the cash settlement to Fortis by Tuesday.
The settlement averted possible political embarrassment for Prime Minister Dean Barrow's administration, as Fortis had appealed the acquisition to the Belize Supreme Court and to the Court of Appeal, which ruled in GOB's favor on May 14, 2014; at which Fortis took their case to the Caribbean Court of Justice (CCJ). Had the CCJ ruled in Fortis' favor and ordered the government to return BEL to Fortis, "that would have produced a…hell of a negative response on the part of the public," P.M. Barrow declared, when he and Fortis' Chairman Barry Perry first announced the settlement.
Time was of the essence, as Cabinet normally meets on a Tuesday in Belmopan, but hastily met in the Biltmore Hotel conference room, a first for Cabinet, before the deal was announced at a press conference at the Biltmore Plaza Hotel on Monday, August 31. Barrow explained that the US$35 million would come from GOB's foreign exchange account, in which Belize holds US$500 million or Bze$1 Billion in its reserves.
Barrow went on to say GOB also expects to rapidly recoup its $70 million investment from its BEL share dividends; since GOB retains the remaining 36.6% shares in BEL that was once Fortis'. With the 26.9% BEL shares owned by the Social Security Board, Barrow affirmed that the government owns far more than the 51 percent mandated in the Constitution, and so retains control of BEL.
In 2011, Fortis was having cash flow problems and had requested a rate increase from the Public Utilities Commission (PUC); but the PUC and Barrow balked at the rate hike. When the then Fortis' chairman Stan Marshall issued an ultimatum that it was either a rate hike or Belize would face rolling blackouts; GOB called Marshall's bluff, quickly passing legislation to allow government to take over Fortis' 70% shareholding and assume management of the utility. GOB took further steps to make the acquisition ironclad by amending the Constitution of Belize, requiring government to hold a 51% controlling interest in all public utilities.
Instead of a rate hike, under GOB stewardship BEL has introduced a series of rate cuts that reduced the cost of electricity from .44 cents per kilowatt hour to 35 cents/kwh this year.
GOB found a way out of paying Fortis' compensation demand of US$300 Million, plus interest and damages, when Stan Marshall retired; and Barry Perry became Fortis' new Chairman. Perry and Barrow were able to work out a compromise after they met in July 2014; as Fortis did not really wish to antagonize GOB as it continues to do business in Belize. Fortis still owns BECOL, which operates three of Belize's hydroelectric facilities at Mollejon, Chalillo and Vaca Falls, supplying more than half of Belize's power needs. Perry did not demand the return of the BEL shares, just a fair settlement.
Perry seemed happy with the settlement at Monday's announcement, saying it was: "One that will enable for us to continue to participate positively in Belize… Prime Minister, I hope what we have done today will be the start of a long and peaceful relationship between Fortis and the government of Belize. Thank you very much!"
Fortis' 33.3% shares allows it to appoint three directors: BECOL Chief Executive Officer Lynn Young (BEL's CEO during Fortis' day), the former President of the Belize Chamber of Commerce and Industry – Kay Menzies, and another Fortis' executive
Follow The San Pedro Sun News on Twitter, become a fan on Facebook. Stay updated via RSS