Projects Abroad Belize – Living a Healthy Lifestyle
Sunday, March 13th, 2016
Living a healthy lifestyle is all about balance; balancing eating healthy with snacking, and relaxation with exercise.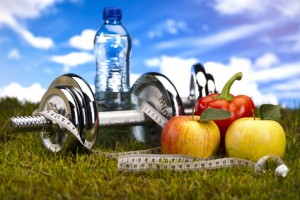 Basic nutrition
Eating a healthy diet is very important, but what is a healthy diet? A healthy diet consists of a wide variety of food groups. It is recommended to eat 7-10 servings of vegetables and fruits, 6-8 servings of grains and cereals, 2-3 servings of meat and other proteins, and 2-3 servings of milk and dairy products a day. When choosing vegetables and fruits it is important to pick bright colors and leafy greens. A fresh piece of fruit is better for you than a glass of fruit juice. When it comes to meat, options with less fat or "lean" meat products such as chicken or fish are better for your heart and your overall health. Swapping white bread and rice for brown or whole wheat is an easy way to make healthier choices. Choosing low or no fat milks and cheeses are also a great way to live a healthier lifestyle. It is important to limit the amount of sweets such as chips, pop, and candy, as these have lots of sugar and unhealthy fats that can increase your risk of obesity, diabetes, and heart disease. Picking water when you are thirsty not only helps you stay hydrated, but brings you one glass closer to the recommended 8 or more glasses of water a day that your body needs to be healthy.

Exercise
Getting exercise does not have to be hard. Small changes, such as walking and biking to work instead of driving be are great ways to add exercise into your everyday routine. It is recommended that everyone does 150 minutes of exercise per week. This works out to only 30 minutes of exercise, 5 days a week. Other fun ways to get exercise are to swim, play sports such as football, or play tag at recess. When at work, it is important to take small breaks to go for a short walk, be active, or just stretch your muscles. Always drink plenty of water before and during exercise.

Risks associated with a poor diet
Eating a diet high in salt, fat and calories can have many negative health effects on your body. A diet high in salt, also referred to as sodium, can increase your blood pressure. High blood pressure, also known as hypertension, can lead to many other health problems such as heart disease, stroke, and heart attacks, especially when combined with eating a poor diet. It is important to have your blood pressure checked by a nurse, doctor, or health care worker regularly, as you may need medications to help manage high blood pressure in order to prevent more serious health problems from occurring. A risk associated with eating a diet high in sugar is diabetes. Diabetes is caused by eating high sugar foods for a long period of time. High blood sugars can lead to damage to your kidneys, nerves, eyes, and heart and may lead to things such as blindness, kidney failure, loss of limbs, heart attacks and ultimately death. All of these things can be easily prevented with a healthy diet, exercise, and regular checkups. On top of all of this, being overweight is hard on your spine and joints, and can make every day activists such as bending down to pick up a child or walking up a flight of stairs painful or more difficult. Maintaining a healthy weight is key to having an overall healthy body.
Eating a healthy diet and exercising regularly lead to having more energy, having a better mood, decreased risk of heart disease and obesity, and overall better life.
Written by: Projects Abroad Volunteers: Elise Crocker, Alissa Loader, Sarah Blelloch, Paige Isabey
Follow The San Pedro Sun News on Twitter, become a fan on Facebook. Stay updated via RSS