Seven members sworn-in to reactivate Integrity Commission of Belize
Friday, January 20th, 2017
After eight years of inactivity, the Integrity Commission of Belize was officially sworn-in by the Government of Belize (GOB) on Friday, January 13th. The pressure to enact this commission was a demand for good governance and to fight against corruption within many organizations, including the Belize National Teachers Union (BNTU). Seven were appointed at the National Assembly Building in Belmopan: Chairperson Attorney Marilyn Williams, along with members Armead Gabourel, Wilmot Simmons, Lisbeth Delgado, Melissa Balderamos Mahler, Claudet Grinage and Nestor Vasquez.
Established under the 2007 Prevention of Corruption Act, the Integrity Commission is intended to investigate complaints or any other declaration regarding non-compliance under the act. The commission also has rights to investigate matters pertaining to corruption and is required to make scheduled reports to the Prime Minister Right Honorable Dean Barrow. Another duty of the commission is to examine the declared statements of assets and liabilities of persons who are government officials. The current deadline for elected officials to submit their declarations is December 31, 2017 with an extension up to March 2018.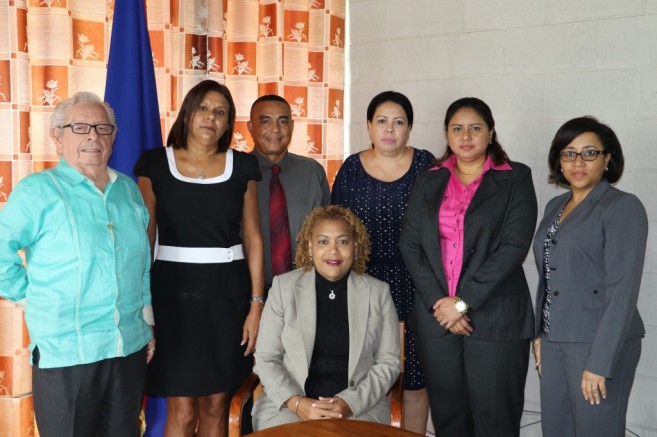 According to Chairperson Williams, she is committed to follow all procedures under the Act, and with the help of her members, personal integrity will be rendered in all investigations. "My policy and my practice has always been to do all that is necessary and as is ordered or prescribed under the Act, and so that is what we will do. I mean, the Act allows us to look at the declarations that are submitted, and look over them carefully, and come to a determination where a certificate will then be issued to say everything is in compliance; and if not, we call the specific member in and have discussions until such time that we feel the declarations are in order. The other thing is to deal with those acts that have been defined by the Act as corruption – we can conduct an investigation and at that point, we will decide after we have done an investigation, which allows us to interview the person that the complaint is made against, to interview any witnesses that we feel might be necessary in terms of making a decision with regard to the whole process. And then if we feel that the matter needs to go further, then we submit it to the office of the Director of Public Prosecutions," said Williams.
Member of the Integrity Commission Wilmot Simmons stated that everything should run smoothly if declarations are given by elected officials. "The people in public life, being the House of Representatives, the Senate and all other elected officials throughout the country – all they will need to is submit; there is a form that they will have to submit their assets, their liabilities and all their income, and just be honest. Just be honest on your submission, and from there we will go on. But we will not be witch-hunting anybody," said Simmons.
A meeting took place following the swearing-in, and Williams stated that she is researching whether or not members of the Commission themselves are also subject to make declarations. This contemplation stems from two previous nominees declining their nominations due to conflicts within their personal and financial records. The Integrity Commission of Belize will serve a two-year term, which is effective as of January 1, 2017.
Follow The San Pedro Sun News on Twitter, become a fan on Facebook. Stay updated via RSS