Guatemala to produce maps that include Belize territory as their own
Saturday, November 11th, 2017
The unfounded Guatemalan claim to Belize has taken an aggressive approach after the government of that country announced on Thursday, November 2nd that it intends to produce maps depicting Belize as part of their territory. This move comes as part of an educational campaign ahead of their referendum on the territorial dispute with Belize which is scheduled for March 2018. In addition, the claim seems to have changed, and instead of claiming half of Belize as previously stated, Guatemala is now seeking to obtain the entire Belizean territory via the International Court of Justice (ICJ).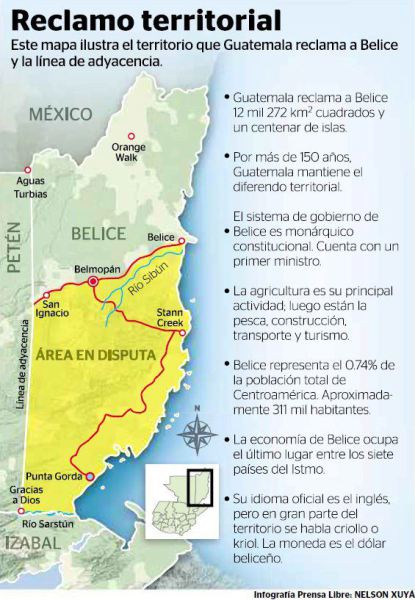 During a press conference on Friday, November 3rd, Rafael Salazar of Guatemala's Ministry of Foreign Affairs stated that they are working on an awareness campaign to ensure that by the start of the 2018 school year, the annexation of the Belizean map appears in all textbooks. In the new Guatemalan map, Belize will be separated by a dotted line and labeled 'Territory in Dispute.' "Our claim is the entire Belizean territory," Salazar said. "How much we will recover? That will be up to the decision by the International Court of Justice. We respect the self-determination of the Belizean people. If they want to be Guatemalans, Guatemala's constitution recognized them as Guatemalans. But in the case they choose not to, they can stay in the territory assigned to them by the Court." Salazar also exposed that in case the Court favors Belize, which they doubt, Guatemala has nothing to lose. "We will always win regardless of the court's decision," he ended.
President Jimmy Morales' government is in the process of hiring attorneys that are considered experts in these types of cases, from Spain, France, England, Canada and even Latin America, after their referendum next year. It is expected that after the referendum is held in both countries and both Belizeans and Guatemalans agree to take the centennial dispute to the ICJ, Guatemala will have up to one year to present the evidence of their case. Belize will then have a year as well to contradict Guatemala's position. It is estimated that it could take up to six years before the ICJ gives a verdict. The total amount Guatemala is looking to spend, including the services of the various attorneys, is close to $90 million US dollars. It is yet unknown what the cost would be for Belize.
The tepid response from the Government of Belize regarding the map annexation has many Belizeans outraged. On Tuesday, November 7th, Belize's Minister of Foreign Affairs, Honourable Wilfred Elrington told the media that Guatemala had renewed its claim to the entire country of Belize, but that it was not a surprise. "That has always been their position, so nothing has changed," said Elrington. "What we need to do now is educate Belizeans to understand that the claim relates to the entire country."
Former Minister of Foreign Affairs and currently Senator of the Opposition People's United Party, Eamon Courtenay questioned Elrington's comments on the matter. "How can the Foreign Minister not say what he is going to do? Why hasn't a diplomatic protest been sent or a statement from the Government condemning Guatemala's decision? We have to galvanize our international supporters and let them know that this is going in the wrong direction," said Courtnenay. "We need a Foreign Minister who is going to aggressively, consistently defend Belize's position and advance what is our interest, and stop accepting things that Guatemala does."
Belize is expected to start an educational campaign on the referendum, which is expected to be held by late 2018 or early 2019.
Other cases that have been taken to the ICJ within the region include territorial disputes between Nicaragua and Costa Rica, El Salvador and Honduras and as well Colombia and Nicaragua. In each of these cases, the verdicts have been unprecedented.
Follow The San Pedro Sun News on Twitter, become a fan on Facebook. Stay updated via RSS