New IDB Manager for Central America, Haiti, Mexico, Panama, and the Dominican Republic meets with Prime Minister of Belize
Tuesday, January 30th, 2018
BELMOPAN, BELIZE – Verónica Zavala, General Manager of the Inter-American Development Bank's (IDB) department for Central America, Mexico, Panama, Haiti and the Dominican Republic met with the Prime Minister of Belize, Rt. Hon. Dean Barrow on January 29 to discuss Belize's relationship with the bank and programming for 2018.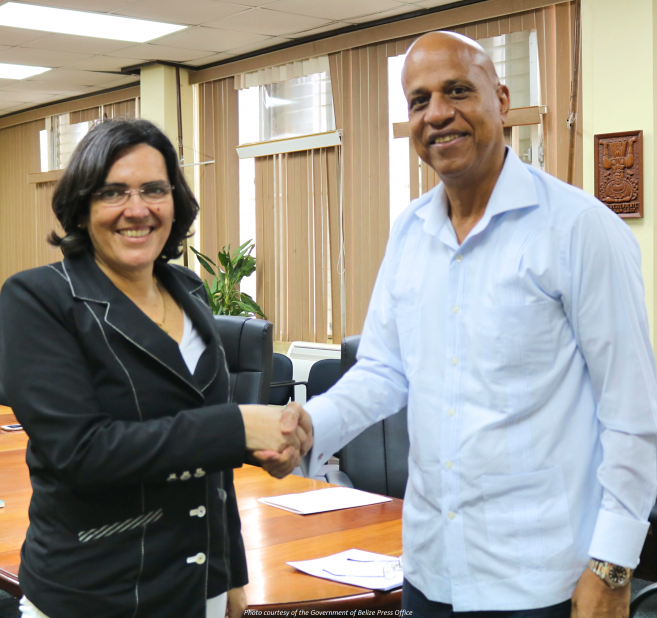 Among those attending the meeting were Cassandra T. Rogers, IDB Country Representative; Joseph Waight, Financial Secretary of the Ministry of Finance and Natural Resources; Yvonne Hyde, CEO of the Ministry of Economic Development, Petroleum, Investment, Trade and Commerce; and Elvira Méndez, Belize's Representative on the IDB Board of Executive Directors.
During the meeting in Belmopan, Ms. Zavala and Prime Minister Barrow reaffirmed the strong partnership that exists between the IDB and Belize for the past 25 years and discussed the current IDB portfolio as well as the program for 2018, examining potential areas of partnership to support for Belize's sustainable
development.
The IDB, a leading source of multilateral lending for Latin America and the Caribbean, has supported Belize since the country became a borrowing member in 1992. The Bank's current portfolio in Belize includes five loans totaling US$72 million, supporting sustainable tourism, education, transport, solid waste management and climate resilience, as well as over US$17 million in technical assistance and investment grants. Several new projects are currently in preparation.
The visit represents the first mission of Veronica Zavala to Belize in her capacity as regional manager for the IDB.
About the IDB
The Inter-American Development Bank's mission is to improve lives. Founded in 1959, the IDB is one of the main sources of long-term financing for the economic, social and institutional development of Latin America and the Caribbean. The IDB also conducts state-of-the-art research projects and provides policy
advice, technical assistance and training to public and private clients throughout the region. Belize joined the IDB in 1992.
Follow The San Pedro Sun News on Twitter, become a fan on Facebook. Stay updated via RSS