Lands Department transfers property unbeknownst to rightful owner
Saturday, March 10th, 2018
On, Tuesday, March 6th Cayman Islands residents, Derick Garcia in an interview with Channel 5 TV alleged that the Lands Department had stolen his properties located north of San Pedro Town. In his interview, he alleges that as a responsible Belizean citizen he decided to visit the Lands Department in Belmopan City on Monday, March 5th to pay some taxes and follow up on the copies of two land titles that he paid for back in December 2015, however when he arrived he got the shocking news that his lands had been transferred to someone else in May 2016.
According to Garcia, in December 2015, he lost the titles of the two properties and went to the Lands Department in Belmopan City to replace the titles, however he stated that he was not going to be in the country and authorized someone else to pick them up for him. Garcia says he never picked up the replacement land titles because he had found the originals. His contact here in the country seemed to have difficulty getting the documents as well. "Fortunately, I was able to find those land titles back again, a few weeks later; they are now in my possession. I met with the Acting Registar of Lands, and she provided me with documentation showing that the land, both lots in San Pedro, were indeed transferred in May of 2016," said Garcia.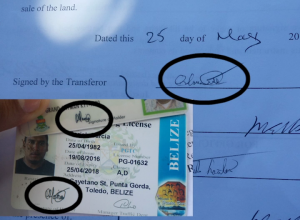 He then said that he asked the Registrar of Lands to provide him with the documents to see the date of transfer, to whom it was transferred and who witnessed it. According to Garcia, the documents states that a Shaheed Louis Hauze paid a total of $40,000 dollars for the lands and it was witnessed by Justice of Peace, Michael E. Usher. "Now at the very extreme top it has, 'I, Derick Garcia,' and I made it categorically clear to Acting Registar of Lands, Patricia Robateau that the signature does not match mine. That is the first inconsistency that I found. Secondly, the date of when the transaction was made, I was not in Belize. I was employed overseas, and I can provide proof of that. Thirdly, a Justice of the Peace signed and witnessed that this transaction took place on the May, 25 2016. This Justice of the Peace, I have no knowledge of, which I have never met him nor the new land owner that is stated here, Mr. Shaheed Louis Hauze,' he said.
Garcia calls out the Prime Minister, the Minister of Lands, and those in authority to rectify this issue. Garcia further stated that he is taking legal actions towards the Lands Department. He further advised all Belizeans that are being affected by this issue to do the same thing. The Lands Department of Belize is yet to issue a statement on this matter.
Follow The San Pedro Sun News on Twitter, become a fan on Facebook. Stay updated via RSS