Countrywide lockdown implemented: Summary of Effect of Statutory Instrument No. 54 of 2020
Sunday, April 12th, 2020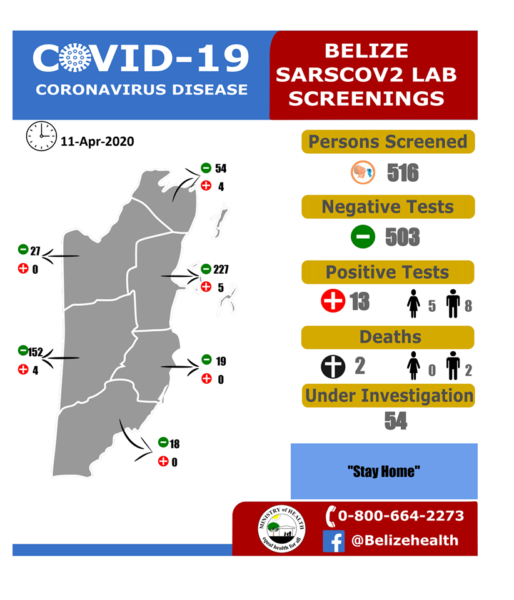 As announced by the Prime Minister on April 10, 2020, a countrywide lockdown has been implemented in response to COVID-19 through a Statutory Instrument effective today, April 11, 2020, at 8:00 p.m. The Statutory Instrument provides for further amendment to the Emergency Powers regulations and offers additional measures to protect the citizens of Belize. The two main changes include specific restrictions on movement and further reduced hours of operation for some businesses. Below is a summary of Statutory Instrument No. 54 of 2020:
The entire country of Belize is on lockdown for 14 days in the first instance.
The curfew remains in effect from 8:00 p.m. to 4:59 a.m. and for children from 6:00 p.m. to 5:59 a.m.
Movements which are allowed including operations of businesses
People are permitted to move between the hours indicated and for the sole purposes of:
1. Food and medicine (essential needs) –
a. Convenience stores, food stores, supermarkets, meat shops, butchers, (excluding potable water) and food can operate from 8:00 a.m. – 4:00 p.m. (movement is for purchase of food and essentials)
b. Markets: 6:00 a.m. – 4:00 p.m.
c. Pharmacies: 8:00 a.m. – 7:00 p.m.
d. Bakeries and tortilla factories: 5:00 a.m. – 4:00 p.m.
2. Fuel (fuel stations, depots, including LPG suppliers, depots and distributors) 5:00 a.m. – 7:00 p.m.
3. Financial institutions (banks, credit unions, ATMs) 8:00 a.m. – 12 noon
4. Exercise (jogging, walking or running, only, during hours of 5:00 a.m. – 8:00 a.m.) (no cycling)
5. Veterinary and medical emergencies 5:00 a.m. – 7:00 p.m.
6. If you are a caregiver or an essential worker going to and from work
7. Services by waste disposal and sanitation companies and auxiliary personnel
8. Maintenance and housekeeping by hotel, villa or other accommodation service personnel
Operations which cannot operate for a period of 14 days:
1. Distributors and factories of carbonated and other beverages including spirits (excluding potable water)
2. Mechanic shops, garages and other auto parts stores are closed to the public, but available for essential services upon request
3. Construction and construction sites
4. Hardware stores
5. Storefront outlets for essential businesses (public utility companies)
6. Service of delivery, take out or drive-thru facilities at restaurants, diners, saloons and other similar establishments
Domestic Food Security
1. Farms continue to operate – agricultural and aquaculture operations between 5:00 a.m. – 7:00 p.m.
2. Fishers can continue to fish for livelihood during 5:00 a.m. – 7:00 p.m. This includes commercial licensed fishers and those who fish to eat. Recreational or sports fishing is not permitted.
3. Agro-processors, food manufacturers only, can operate for a period of 14 days during 5:00 a.m. – 7:00 p.m. (but carbonated and other beverage manufacturers cannot operate for a period of 14 days).
4. Productive sector industries, personnel and auxiliary workers (potable water production, agricultural workers) during 5:00 a.m. – 7:00 p.m.
Transportation
1. No public bus transportation countrywide.
2. No busitos or dalla van shall run in any district.
3. Taxis are allowed if they are called. No taxi should be waiting at a taxi stand for passengers.
Government Offices
Government offices will be closed for a period of 14 days. Where e-services are offered, there will be an acknowledgement of receipt; the request will be recorded, and the necessary accompanying action will be effected when business resumes.
Restriction on movement
1. No one is allowed to move across districts.
2. The food and essential goods supply chain will, however, remain open for cargo and delivery of food and medicines for those purposes only. This includes international and domestic delivery services and wholesalers of goods and services.
On Sundays, there will be a complete shutdown of businesses except for private security services. That means:
1. Movement by essential workers only
2. Movement for emergencies only
3. Entities that are designated as 24-hour and seven days a week are allowed to operate. These include food mills, oil production, sugar, citrus and approved food factories, port operations, public utilities.
ESSENTIAL WORKERS AND SERVICES UNDER THE LAW
1. Security forces
2. Medical personnel and auxiliary services (includes ambulance services)
3. Immigration and Customs
4. Private security services
5. Public utilities, workers and auxiliary staff
6. Social workers authorized to respond to emergencies
7. Sanitation workers and auxiliary staff
8. Productive sector industries, personnel and auxiliary workers (potable water production, agricultural workers)
9. Media (workers supporting television, radio, newspapers and online media services)
10. Belize Port Authority
11. Office of the Governor General
12. National Fire Service
13. Belize Electricity Limited
14. Belize Water Services Limited
15. Belize Telemedia Limited
16. Speednet Communication Limited (Smart)
Follow The San Pedro Sun News on Twitter, become a fan on Facebook. Stay updated via RSS