Questionable sale of private island within the Hol Chan Marine Reserve raises concerns on Ambergris Caye
Wednesday, January 19th, 2022
An advertisement for the sale of a private island reportedly within the Hol Chan Marine Reserve south of Ambergris Caye was met with resistance by many islanders prompting an immediate reaction from the reserve's authorities. The post with details of the island was found on a renowned Real Estate company's Facebook page and was promptly removed. Hol Chan, however, indicated that an investigation is ongoing to find out if and how the realtors managed to get ownership of an island located in a marine reserve.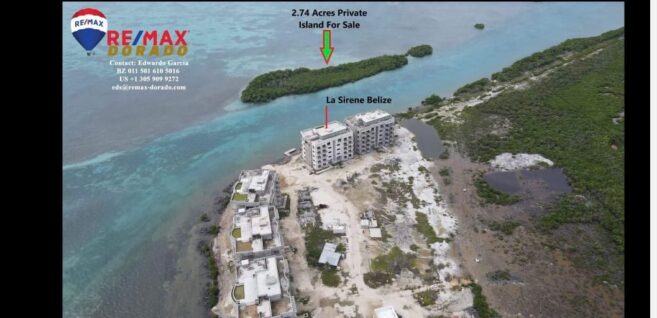 The Hol Chan management shared with The San Pedro Sun that the only way an island within the reserve can be sold or anything of that nature is after the area has been de-reserved. According to them, no part of the reserve has been de-reserved; thus, the mangrove island offered for sale is within Zone C of the said marine protected area. "We are currently doing an investigation to resolve this matter," Hol Chan noted. The management added that they are diligently working with the appropriate authorities to determine if anyone was granted permission to purchase it and when it happened.
On Monday, January 17th, the post marketing the sale listed the mangrove island at US$1.35 million welcoming cash offers. The private island was listed as 2.14 acres and is said to include sandy beaches, a sand bar area, privacy and uniqueness, and an excellent investment potential for a private resort.
More information about the island was suggested by visiting the RE/MAX Dorado Belize website, however, the post was taken down. The Sun attempted to contact the sales agent of the realty company to no avail.
In the meantime, the investigation will seek to find information from the Lands Department regarding whether a lease or title had been granted for the island's ownership within the Hol Chan Marine Reserve.
Follow The San Pedro Sun News on Twitter, become a fan on Facebook. Stay updated via RSS