Heredia denies land grab scheme in northern Ambergris Caye
Friday, October 30th, 2020
Reports of what was described as a land grab in northern Ambergris Caye flooded social media on Thursday, October 29th, naming such people like former San Pedro Town (SPTC) mayor Elsa Paz, current Belize Tourism Board Director Karen Bevans, and former SPTC employee Jorge Aldana, among others. The incumbent Area Representative of Belize Rural South (Ambergris Caye and Caye Caulker) Manuel Heredia Jr. denied allegations of preferential treatment and explained to the media on Friday, October 30th that it is not a land grab.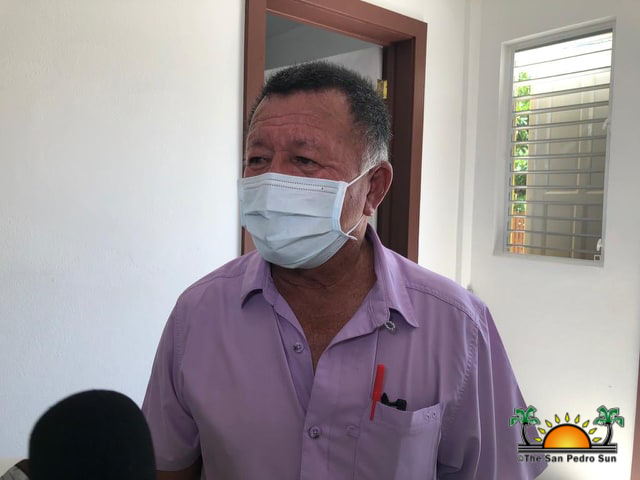 Heredia said that everything was done with  transparency, without special preference to anyone. "The one for Jorge Aldana is not an island and I can attest to it," said Heredia. "It was one acre of swamp that he was given." He added that the swampy lot is located in a low area and was transformed into an island in order to make it suitable. Heredia said that it would take several years before anything can be developed in that said piece of land, which according to leaked documents, was sold for $2,500.
In the case of former Mayor Paz, Heredia agreed that she deserves something after serving in the interest of her community for three consecutive terms. "This is not a land grab," he pointed out.
Heredia claims equal distribution of land
According to him, up to 1,500 lots have been given out to bonafide islanders for a new subdivision in northern Ambergris Caye. He added that in Caye Caulker, between 400 and 500 lots have been distributed. "We are looking in the interest of everyone," said Heredia. As for persons like Bevans, the incumbent Standard Bearer for BRS explained that these persons have worked hard for the benefit of the country and deserve a piece of land where they can retire.
He continued firm, refuting all allegations of accommodating close supporters of his party with prime land. However, concerned island residents remain skeptical and believe these persons enjoyed preferential treatment. Heredia maintained that there was transparency and he invited interested parties to review the documents available for public knowledge at the Lands Department in the Capital City of Belmopan.
Follow The San Pedro Sun News on Twitter, become a fan on Facebook. Stay updated via RSS