Volunteer Dentists return to bring healthy smiles on La Isla Bonita
Saturday, March 2nd, 2013
Yet another set of long-time volunteers have made their way to our sunny island of Ambergris Caye to offer their services to the children of Holy Cross Anglican School. These enthusiastic volunteers combined their vacation with their desire to help the community, and they are always warmly welcomed by islanders.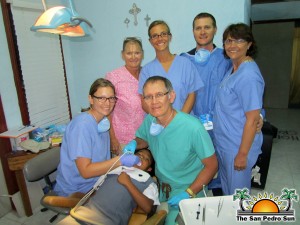 Doctor Paul Roggow along with his wife Linda Roggow, have been coming to the island for the past four years offering their services at the Holy Cross Anglican School as well as the Poly Clinic Smile Center. Roggow and his wife decided to make their annual trip a family affair this year, bringing their daughter Brielle, son Brendon and Brendon's fiancé Hatty Rossow. The family traveled to Belize from Minnesota, Florida and Maine, USA. The entire family volunteered their time helping the children at the school and at the Holy Cross Smile Clinic.
Along with their volunteer work, the family enjoyed plenty of sun, sand, sea and the rich culture of San Pedro. Plans are already being made by the family to return next year on a similar family mission.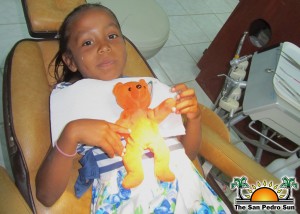 Another couple that has devoted much time to help the island's dental needs is Doctor Steve Bender and his wife Sue Bender. The Iowa couple have been traveling to Belize as volunteers since 1996. The couple travels to Belize every January or February to assist at the Holy Cross Smile Clinic and return in October with the Mission Belize Project Dentists.
The Holy Cross Smile Clinic is a free of charge clinic that offers services to brighten the smiles of island children. As always, services provided included extractions, fillings and more. The Holy Cross Smile Clinic would not be possible without the generous help of the many volunteers that offer their time and service and The San Pedro Sun takes this opportunity to thank everyone who continues to contribute to success of the Smile Clinic.
Follow The San Pedro Sun News on Twitter, become a fan on Facebook. Stay updated via RSS