2015 already registering record number of Dengue outbreaks
Thursday, August 13th, 2015
The Ministry of Health has confirmed an alarming number of Dengue cases, totaling 261 victims to date. Most of the cases are originating in the Toledo District, and this has prompted the local health authorities to start checking grounds and premises in the communities that are most affected. The three Vector Control Diseases that have impacted Belize are Dengue, Malaria, and Chickungunya. From the beginning of the year up to July, the number of dengue cases has almost tripled.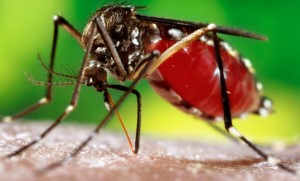 According to Chief Operations Officer of the Vector Control Unit, Kim Bautista, they have confirmed reports on an outbreak of dengue in its most deadly form, "hemorrhagic dengue fever". "The symptoms that go with the dengue hemorrhagic fever is a combination of serotypes of the four serotypes that exist with the dengue virus," said Bautista. He further explained that when a person is exposed to a serotype, they become immune to it, but when there is another serotype circulating, then there are higher chances to get ill with dengue hemorrhagic fever. "This year, we have seen 15 alerts countrywide for dengue hemorrhagic fever and five of those cases coming from the western district. Of those, dengue hemorrhagic fever is a clinical diagnosis. If there are five alerts, it does not necessarily mean that there are five confirmed cases," explained Bautista.
Up to press time, Cayo has reported 36 lab-confirmed cases of dengue, and health authorities are focusing their most recent campaign in some hotspots in that district. The areas of most concern are Camalote, Cotton Tree, San Martin, Maya Mopan and Salvapan Villages. The activity is also being focused in Corozal with hotspots such as Alta Mira, Caledonia, Copper Bank, San Narciso and Santa Clara Villages.
In regards to Chickungunya, according to Bautista, since the beginning of 2015, only two positive cases have been reported from the Central Medical Laboratory in Belize City. The two positive cases were from persons living in Belize City and Cotton Tree Village. "These are in addition to the eight cases confirmed in Belize last year. There were five from Las Flores in Belmopan, plus three imported cases," stated Bautista.
In the case of Malaria, Belize has made major progress towards the near eradication of this disease. Over the past 15 years, there has been a decline by as much as 98.7%. Bautista indicated that even though in 2000 there were 1,486 cases of Malaria reported in Belize, in 2015 so far there has been only 9 cases of Malaria confirmed.
The Ministry of Health advises the general public to join in the campaign to prevent the spread of Dengue by cleaning their surroundings, disposing of items where water can collect including drums, empty bottles, tires and taking care of areas with poor drainage. These are breeding grounds for mosquitoes. Keeping all areas clean and free of stagnant water is the key to combat such illness.
The Ministry of Health also warns of the high possibility that cases may increase as the rainy season approaches in the coming months.
Follow The San Pedro Sun News on Twitter, become a fan on Facebook. Stay updated via RSS