Belize begins COVID-19 vaccine rollout; three healthcare workers vaccinated with more vaccines on the way
Monday, March 1st, 2021
The vaccine rollout to fight COVID-19 started in Belize City after three healthcare workers received the country's first vaccination on Monday, March 1st. The vaccine, Oxford-AstraZeneca, is part of a small shipment donated to Belize from Barbados. The first public servants to be vaccinated included Head of the COVID-19 Unit at the Karl Heusner Memorial Hospital (KHMH), nurse Casilda Bowman, Chair of the National Immunization Technical Advisory Group Dr. Marcelo Coyi, and Head of Internal Medicine at KHMH, Dr. Eric Bradley.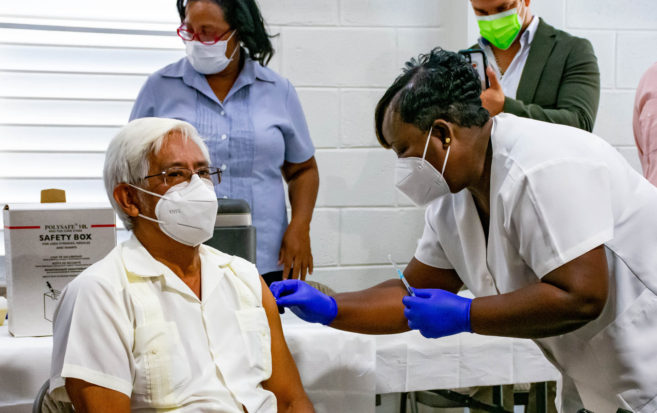 The trio of healthcare workers was publicly vaccinated at the House of Culture in front of a global audience as the event was live-streamed on social media. Before their first injection, the healthcare workers were questioned to confirm they were not sick or allergic. After receiving the vaccine, they were observed for about 15 minutes, and no signs of distress were observed. The Oxford-AstraZeneca vaccine is said to cause minor side effects such as headaches and other adverse reactions.
The event was part of the official launch of Belize's COVID-19 vaccine rollout sponsored by the Minister of Health and Wellness (MOHW) Honourable Michel Chebat and Prime Minister Honourable John Briceño. At a press conference, Chebat said that due to the government's reorganization to fight the virus, the country's number of infections has significantly reduced. He said that government has a dynamic plan, and vaccinations will be free of cost. As illustrated below, these are phases for the vaccine rollout. Those who met these categories can contact the Mistry of Health and Wellness or their nearest health center. MOHW will also be working with different bodies to identify those who fall within the categories.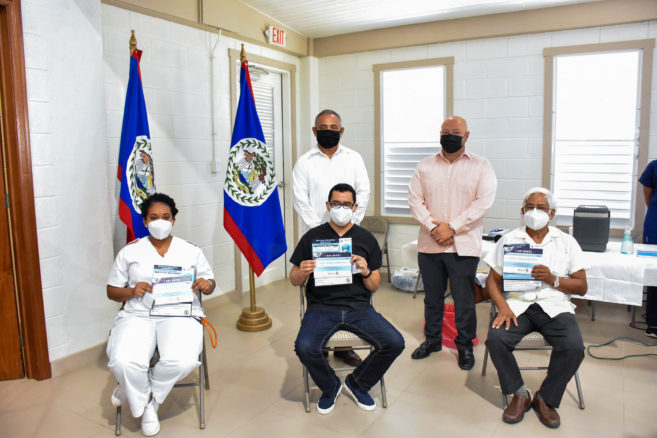 India to donate 25,000 vaccines this weekend
While Belize awaits its first shipment of over 100,000 doses later next month from the COVAX facility, one of its biggest Commonwealth allies from the Far East is preparing to donate. India is sending 25,000 COVID-19 vaccine doses expected to arrive on Saturday, March 6th. Belize's Ministry of Foreign Affairs, Trade, and Immigration confirmed the news on Monday. They explained that it was a collective effort with the Indian Foreign Minister Subrahmanyam Jaishankar and High Commissioner Manpreet Vohra.
With the upcoming shipments of vaccines, the government's plan, as mentioned by Prime Minister Honourable John Briceño, is to vaccinate teachers and have schools re-open by mid-May to June of this year.
Follow The San Pedro Sun News on Twitter, become a fan on Facebook. Stay updated via RSS