Disturbing cruelty towards crocodiles raise concerns for ACES
Thursday, March 23rd, 2017
It's a normal routine for Chris Summers of the American Crocodile Education Sanctuary (ACES) to rescue and remove crocodiles whenever reports are made. However, after two similar reports revealed crocodiles with their snouts intentionally bound, Summers is hoping that this is not a new trend. As a result, ACES is imploring the general public to stop animal cruelty, explaining that these reptiles are essential to the health of the world's ecosystems.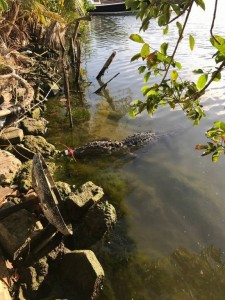 According to Summers, one crocodile was found in horrific conditions. "Somebody called us at the Train Station Gym on Saturday, March 18th about a crocodile lying around, with its mouth shut with tape and wire. My team responded, and we caught him quite quickly. The croc looked weak, in distress, and seemed like it hadn't eaten for a few months. Somebody did this on purpose, its mouth was not only taped shut with a lot of tape, it was also tied with a lot of wire. It is disgusting to do this. The poor croc also suffered some very nasty wounds, inflicted by another croc, while it was unable to defend itself," said Summers. The crocodile is currently in an emergency holding pen, and Summers hopes that this seven-and a half foot animal can survive. According to him, it's too soon to tell.
Interfering with Belize's protected wildlife is against the law. "Of course, capturing any wildlife without a permit is illegal. Crocodiles are a protected species in Belize and interfering with them is a criminal offence. ACES remind the public that in accordance with the laws of Belize and the Forestry Department, it is illegal to kill, feed, capture, or disturb crocodiles. It is also illegal to sell their remains or crocodile products," said Summers.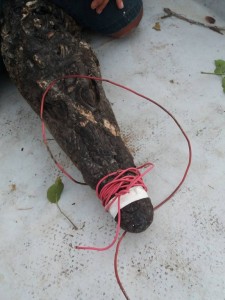 "But that is not what concerns me the most. The numbers of these crocodiles are drastically declining in Belize. I am appalled that someone would catch an animal, tie its mouth shut, and then release back into the wild, so it could slowly starve to death. Another crocodile was reported in Belize City in the same situation, and that is making me question whether this is a new trend," he continued.
ACES reminds the public that these animals play a vital role in their native ecosystems. "No matter if you're a wolf, shark, bear, or a crocodile, all apex predators are important to the environment. They help balance the ecosystems around them by being the top predator in the food chain. To take those predators out of the wild, it can have a domino effect all the way down the chain," said Summers.
In order to preserve wildlife for future generations, ACES is dedicated to the conservation of Belize's critical wetland habitats and protected species through scientific research and education. Since human safety is ACES number one goal, they respond to crocodile calls country-wide. For any crocodile related issues or if you are concerned about a croc, please report it to ACES at 631-6366 or 623-7920. For more information on ACES, you may visit their website at www.americancrocodilesanctuary.org
Follow The San Pedro Sun News on Twitter, become a fan on Facebook. Stay updated via RSS