Phineas the injured crocodile undergoes surgery
Saturday, April 22nd, 2017
An injured seven foot crocodile remains at an emergency pen under the care of the American Crocodile Education Sanctuary (ACES) in San Pedro Town. The reptile was found and rescued in mid –March, with its mouth intentionally tied shut with tape and wire. Left to starve and highly vulnerable, the reptile also suffered severe wounds to its neck, which required a surgery that was performed over the Easter weekend. The surgery was a success, but the croc's health status is still of great concern.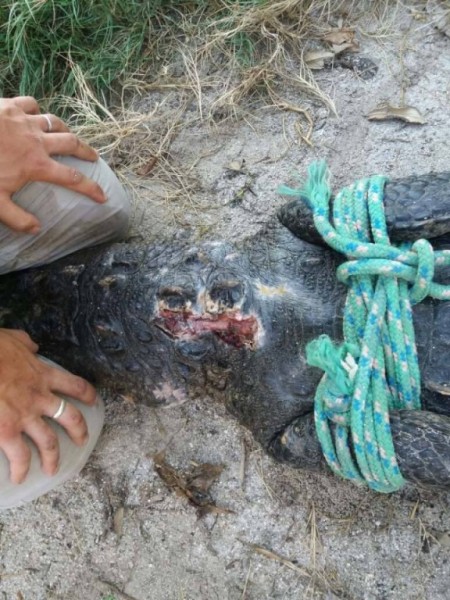 Since its rescue, the ACES' team of crocodile conservationists has been tending to the crocodile, which has been named Phineas. The wounds on his neck are regularly cleaned, while antibiotics are administered into his system to keep any infection at bay. Prior to the surgery, the health of Phineas seemed to have been improving slowly, and according to the team at ACES, there were encouraging signs from the animal, except for the wound on the neck, which was too large to heal on its own. With time running out, they sought the help of a veterinary medical expert.
Veterinarian Dr. Ines Ventura from the San Pedro Animal Hospital graciously volunteered her time to help Phineas. Ines, originally from Croatia, has been in San Pedro for the past five months and has a high interest in wildlife veterinary medicine. She was thankful for the opportunity and ACES's trust to take care of the crocodile.
With the assistance of the staff and volunteers from ACES, and despite the mosquito bites, Ventura was able to conduct the successful surgery in two hours. She stitched the gaping wound from the inside out. According to Ventura there was a lot of tissue missing, but the end result was favorable for his recovery. "The wound was closed in three layers," Ventura explains. "Muscle tissue was reconnected in 16 cross stitches with the thickest suture material we had available." She further elaborated that due to the lack of proper material to close the skin, the gap of the wound was minimized but left to heal by what is called 'second intention.' According to her, this means that there will be infection present to a certain extent, which was inevitable.
After the surgery, a higher dose of antibiotic was applied, with the idea to speed up wound closure. The ACES team remains very optimistic in the recovery of Phineas, but they know that only time will tell how well he heals. They have pledged to do all they can to ensure the survival of this crocodile.
ACES would like to thank Dr. Ventura for her assistance and expertise to save the severely injured crocodile. They also thank all the volunteers, the public's support, and their sponsors, such as La Foundation Brigitte Bardot. They also would like to remind the general public that if anyone is having issues with a crocodile, not to take matters on their own hands, but to contact ACES anytime at 623-7920 for assistance.
Follow The San Pedro Sun News on Twitter, become a fan on Facebook. Stay updated via RSS