Injured crocodile Phineas fully recovered and back in the wild
Friday, August 11th, 2017
Submitted by Chris Summers, ACES Daily Operations Manager and Crocodile Conservationist
As some of you may remember, a few months ago on March 18th, members of ACES (American Crocodile Education Sanctuary) were alerted to an almost lifeless croc in Boca Del Rio area of San Pedro Town. (https://www.sanpedrosun.com/pets-animals/2017/04/22/phineas-injured-crocodile-undergoes-surgery) Some very cruel person, (or persons) had caught this croc, taped his mouth shut, tied it shut with wire on top, and inflicted an incredibly deep wound to his neck. He was then released in that condition to die a slow and horrible death. Truly a disgusting act of animal cruelty.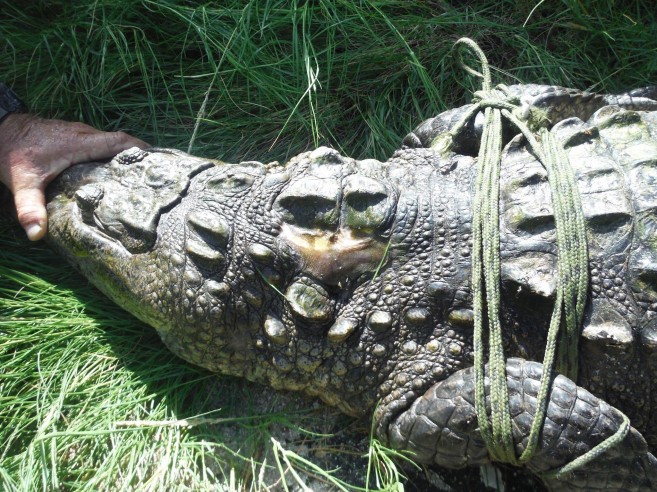 Thankfully a concerned citizen contacted ACES and we caught him easily. Weak from starvation and the infection in his neck, he put up little struggle when caught. Upon seeing his condition, we transferred him to our emergency holding pen where for the next few weeks he was force-fed and administered antibiotics to help with the infection.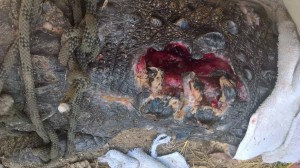 He started to gain weight and the infection was trying to clear up, but the hole in his neck was just too big to heal on its own.
Thankfully for us and him, Dr. Ines Ventura of the San Pedro Animal Hospital came to the rescue! Although terrified of the croc, she put aside her fears and spent over two hours stitching closed the wound in his neck. The surgery went well, and the stitches appeared to be holding, and although still sick and stressed, Phineas the croc started to eat on his own without having to be force-fed, which was a great weight off all our minds.
We at ACES are pleased to announce that on August 3rd Phineas the croc has been released!! He was pulled out of his pen for a final inspection and he has made a full recovery!! The wound is completely healed apart from a very large scar, and there is no sign of infection or limited movement because of it. We are all very happy with this result. It was touch and go for a while with this poor croc, and there was a time we thought we may lose him.
Thank you to all involved in the rescue and rehabilitation of this animal. Without the help of concerned citizens, our tireless volunteers, and especially Dr. Ines Ventura, this croc would have died for sure.
Follow The San Pedro Sun News on Twitter, become a fan on Facebook. Stay updated via RSS