Cayo District Zone/San Ignacio Police Formation awarded for Crime Reduction
Saturday, February 16th, 2013
On February 13, 2013, Minister of National Security Hon. John Saldivar presented awards to officers commanding the Cayo District Zone and the San Ignacio Formation for their performance during the month of January in reducing crime within their jurisdiction.
Crime Statistics for the month of January, 2013, show an overall reduction in crimes committed countrywide, the largest reduction being in the Cayo District Zone where crimes went down by 41.51 percent. Within that zone, the San Ignacio Formation recorded the largest reduction during that month.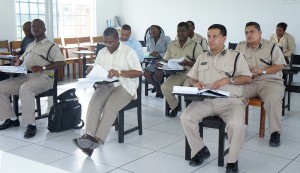 The awards, which will be a monthly feature, consist of a certificate of appreciation to the outstanding formation and a cash reward of $1,000 to the winning zone for the month in question, funds which will be used as the Officer Commanding that zone and his team determine as they continue to step up efforts to provide better safety and security in their respective jurisdiction.
Receiving the award for the Cayo District was the Officer Commanding that Zone, Senior Superintendent Aaron Guzman, and receiving the certificate of appreciation for San Ignacio was the Officer Commanding that Formation, Superintendent Ralph Moody.
In presenting the awards, Honorable Saldivar remarked that since commanding officers are now being held accountable for their effectiveness in reducing crime in their respective zones and formations, he believes it is only fair that those who perform well are recognized and rewarded.
The Minister made the presentation at the start of a meeting with zone and branch commanders held at the Police Training Academy in Belmopan Wednesday afternoon. The meeting was chaired by Commissioner of Police Allen Whylie, and was also attended by CEO in the Ministry of National Security Colonel (Ret.) George Lovell.
Follow The San Pedro Sun News on Twitter, become a fan on Facebook. Stay updated via RSS