Ministry of National Security meets with Regional Commanders
Saturday, February 13th, 2016
Press Release – Ministry of National Security – February 9, 2016 – Regional Commanders of the Belize Police Department, along with the Police Senior Command and the Minister of National Security, Hon John Saldivar, met on Monday, February 8, 2016 at the Police Training Academy's Conference Room in Belmopan for their regular monthly meeting.
Commissioner of Police, Mr Allen Whylie and Honorable Saldivar gave opening remarks at today's session, which set the tone for the meeting. This was followed by reports from all six Regional Commanders. In their reports the Regional Commanders presented crime statistics for their various regions and initiatives undertaken in the month of January. They also presented their work plan for the month of February.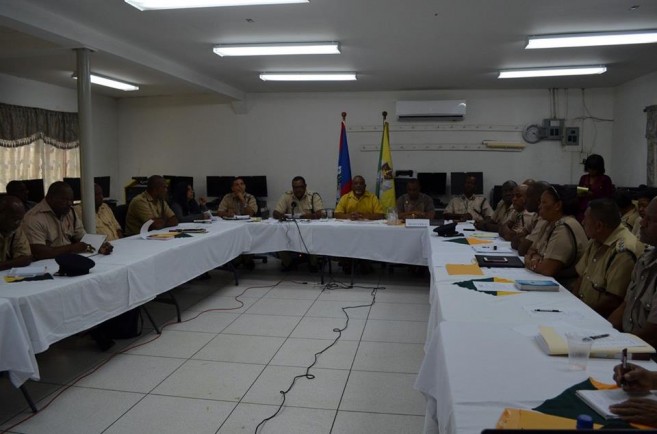 Overall statistics showed an increase of thirty major crimes in 2016 over the same period in 2015. Interestingly, the increase showed a shift from Belize City, which had been the area of major concern, to areas where the numbers have been traditionally low in particular the Toledo and Corozal Districts.
After the reports there was an interactive session in which effective strategies and techniques used in the past month in the various policing regions were shared among the Commanders. Notable in all reports was the significant increase in foot patrols countrywide, which involved house visits, neighborhood meetings and visits to business establishments. Community policing has yielded great results such as the recent civilian arrest of a suspected murderer in Toledo District. By the same virtue, the use of modern technology has proven very successful in cross country cooperation among the different policing regions in capturing criminals who commit crime in one region and run to a different jurisdiction to escape arrest. Another area of cooperation that is being strengthened is the networking with the customs and immigration department to combat contraband and drug and human trafficking.
The Commissioner of Police urged all formations to familiarize themselves with the New Criminal Procedure Rules to ensure greater success in prosecution. He emphasized that File Management is critical to ensuring that the prosecution arm of the Police Department gets the desired results in court. For his part, Minister John Saldivar thanked the Regional Commanders for their work and dedication. The Minister pledged his Ministry's continued support in providing resources needed to ensure effective policing to provide safety and security for all citizens.
Follow The San Pedro Sun News on Twitter, become a fan on Facebook. Stay updated via RSS