First Quarterly Police Report Released
Saturday, May 21st, 2016
The San Pedro Police Department (SPPD) has released their report for the first quarter of 2016. The report demonstrates statistics that compare major crimes to the same time period in the previous year of 2015. The Officer in Charge of the San Pedro Police Sub-formation, Superintendent Sandra Bowden reported that overall, the amount of crimes committed this quarter shows a decrease in major crimes, especially relating to robberies and murder.
In 2016, the accumulative statistics for January to March indicate that there were nine less major crimes committed than in 2015, a 39% decrease. On the other hand, San Pedro saw an overall increase in rape and unlawful sexual intercourse compared to 2015. Major crimes reported on the island for this quarter include: three murders (decrease of 40%), one rape (increase of 100%), two robberies (decrease of 60%), 16 burglaries (decrease of 20%), six thefts (decrease of 25%) and two incidents of unlawful sexual intercourse (increase of 100%).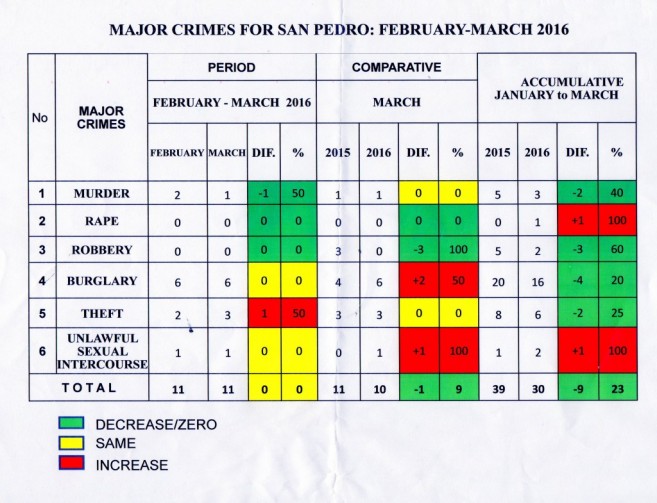 Superintendent Bowden is pleased, but not satisfied, that the report showed slight progress in combating certain crimes. "We have been doing a lot with the resources we have available, and that is helping to deter crime. Of course, there is more than could be done, but in the end, it goes back to the public regarding the security they have or wish to have," said Bowden.
Bowden states that the SPPD will never be able to fully fight crime on their own. Although the SPPD has implemented more community policing projects to reduce crime in San Pedro, they still welcome the assistance of the general public to deter crime. They strongly encourage the public to be active in the "Meet and Greet", their Neighborhood Watch program, in calling the police or the TIPS hotline to give information regarding criminal activity.
Eliminate Crimes of Opportunity
According to Bowden, crime does not discriminate and crimes of opportunities are amongst the most common committed on the island. "The harder the public makes it for criminals to take advantage of them, the less crimes will happen," said Bowden. A little effort goes a long way, and instilling security measures will minimize the chances of being a victim.
The SPPD advises the public to:
-lock all the doors to your home
-if you are going out, leave on the lights inside and outside
-do not leave belongings unattended (purse, cell phone, etc.)
-avoid carrying a large amount of cash
-properly secure golf carts, vehicles, and bicycles
-stay in well-lit areas
Reporting VS Pressing Charges
One of the reoccurring issues the SPPD has with the public is when a complainant files a report. The majority of complainants only seek to recover the stolen items and do not press charges. The SPPD believes that when a person does not press charges, it gives the criminal more access to commit the crime again, as well as to others.
Items Reported Stolen
The SPPD would also like to stress to the public to retain all receipts when purchasing valuable  items. Once a person goes to the police station and reports an item stolen, the SPPD declares for the individual to produce a receipt or ownership papers to prove the item reported lawfully belongs to them. If no documentation is displayed, the police have no obligations to return the recovered items back to the person who made the report. After six months, if no proper documentation is shown, the items go under "Lost and Abandoned Property."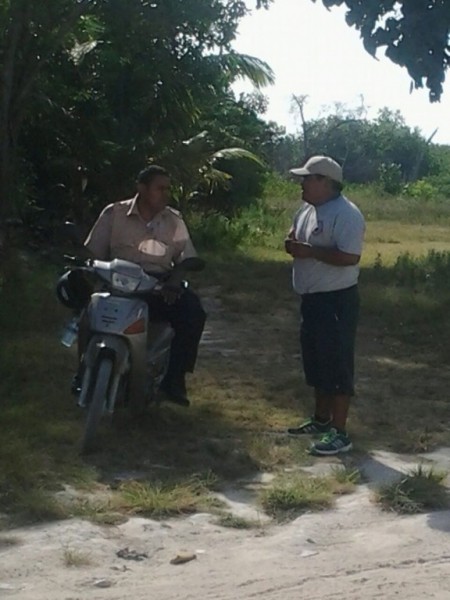 Neighborhood Watch
San Pedro currently has the North and South Ambergris Caye Neighborhood Watch programs, but the SPPD urges all communities to become involved in forming more neighborhood watches. "We go out and have meetings in these areas, hoping people will come out to support having a Neighborhood program. Sometimes only three  to four people show up. And when people do show up, it's to complain about the police. The SPPD does not have sufficient man power to put an officer at every corner, and even if we did, it wouldn't serve a purpose, because it takes away from citizens being productive and responsible," said Bowden. Therefore, the SPPD encourages all residents to take the initiative to combat crime by participating and helping out their community. A neighborhood watch is formed to protect the community by looking out for them.
Guilty by omission
According to Bowden, there are a lot of people in San Pedro who do not like to get involved and that is what is affecting the island. Police note scenarios where someone sees something, but pretends that they didn't. Meanwhile, the situation escalates into something worse that could have been prevented. "If you see something today and don't mention it, you are condoning what you saw. People are guilty by omission. When you see something, don't stay quiet. You are allowing a person to get away with crime," said Bowden.
Bowden acknowledges that many  resistant do not  become involved due to fear. Although there has been a negative social stigma that is associated with people giving hints to the police, the law enforcement reminds everyone that reports can be anonymous. When people witness crime or potential crimes, they are reminded that there is a timeline in which police have to deal with the matter. When witnesses delay in contacting the police, it can be too late, and no-one gets charged. Residents are encouraged to call 911 or 206-2022 to report criminal activity immediately, or call anonymously via Crime Stoppers Belize at 0-800-922-8477(TIPS).
Updates on previous cases
In  December 2015, Dr. Robert Hall made headlines for his fraudulent dental practices. Dr. Hall had attempted to open his practice on Ambergris Caye, but the Ministry of Health prevented him from opening Oceanside Dental Clinic. He was granted bail under the condition that he turned over all travel documents into police custody. He was charged for having an illegal license, which he obtained on June 23, 2015 under the name "Robert Bob Hall", which is not his legal name. He pleaded not guilty and was scheduled to appear in court in February 12, 2016. After his court appearance, his case was dismissed and no charges were asserted.
Taxi driver Alfonso Wiltshire, also made headlines in October 2015, when he was charged for the rape of a 13 year-old girl, two counts of Aggravated Burglary and two counts of Unlawful Sexual Intercourse. He was granted bail from the Supreme Court in November 2015. Currently, the matter is still before the court and has not been brought to trial as of yet.
The San Pedro Sun will continue to update readers on these matters.
Follow The San Pedro Sun News on Twitter, become a fan on Facebook. Stay updated via RSS