Another government Minister embroiled in scandal
Monday, January 27th, 2014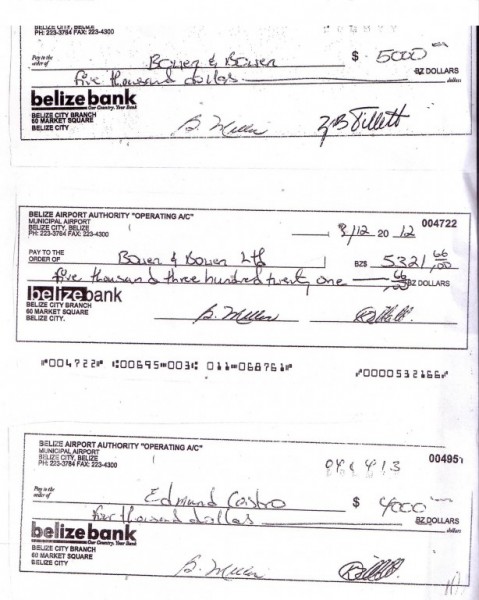 Another scandal is brewing and it involves the Minister of State in the Ministry of Works and Transport with the responsibility of Civil Aviation and Area Representative of Belize Rural North Honorable Edmond "Clear the Land" Castro. A number of checks have been written by the Belize Airport Authority (BAA) to Castro and for expenses incurred by him. The checks have been surfacing in the media and are all from BAA, a statutory body that falls under the responsibility of Castro. The San Pedro Sun has obtained images of nine of the checks.
Two of the checks are made out to Bowen and Bowen, one for the sum of $5,000 and the other for $5,321.66. According to Channel 5 News, those checks were used to pay for beverages for political functions held by Castro. There are three checks of varying amounts made directly to Castro as well. One is in the sum of $4,000, another for $900 and the third for $5,156.55. According to the People's United Party (PUP) Belize Times Newspaper, it is alleged that the third check was given to Castro to offset burial expenses for a family member. But there is yet another check made out to David Coye Funeral Parlour for the sum $3,337.50, which is believed to have been related to that very same burial expense.
There is another check made out to Ordonez Bike Shop for $1,937. According to Channel 5, Edmond Castro manages
a cycling team, and the check made out to the bike shop was apparently to pay for repairs of bicycles. What raises more eyebrows is a check made out to The Dental Center for $2,040 and no one could say why that bill was paid on Castro's behalf. A check in the sum of $3,212.70 was also disbursed by the BAA to pay for turkeys given away by Castro during Christmas.
Copies of the checks first surfaced in the PUP newspaper, but after more checks were leaked out; public outrage increased. So much so that it was raised in the Sitting of the House of Representative on Wednesday January 22nd by the Leader of Opposition and member of Freetown constituency Hon. Francis Fonseca. "I have in possession, copies of some 60 Belize Airport Authority operating account Belize Bank checks, which in my view demonstrate a consistent pattern of ongoing misuse and abuse of the authority's funds for personal and political purposes by the Member for Belize Rural North, Edmund Castro… and that is just a sampling. I have over sixty checks here either made for the member's personal use; for him to cash or for him to use for political purposes or to help family members. The Hon. Prime Minister is saying that he would not stand for a whiff of corruption, now finds himself at every turn defending and embracing it. Let us put these things on the table, and let us get proper answers from those responsible. Stop defending it! There is a growing perception out there that corruption is eating away at this UDP [United Democratic Party] government and the Belizean people have had enough. And so it is a very important issue Mister Speaker and as I said earlier, our Prime Minister who started out on this very high horse and very high note of not being prepared to even stand a whiff of corruption now finds himself in the unenviable position of having to be defending everybody who is involved or alleged to be involved in corruption and it is eating away across the government," said Fonseca.
While Castro did not attend the House Meeting for the second consecutive time, Prime Minister of Belize Hon Dean Barrow rose to his defense. According to PM Barrow, there is nothing illegal about the checks written to Castro and indicated that as a statutory body, the BAA, was only assisting Minister Castro with activities related to his constituency. "This is not corruption. The Airport Authority, in the full exercise of their jurisdiction, obviously assisted the minister on several different occasions. I will tell you right off that I find it utterly and completely distasteful and I think the Airports Authority and the minister are both wrong. So don't think I am here making any apology for anybody, but call it what it is man. It is not corruption. He didn't steal the money from the Airports Authority; he didn't get the money under false pretenses. He obviously was of the view that the Airport Authority, which is a statutory body associated with the section of the ministry for which he is responsible, could be asked to assist him and his constituents politically. I have spoken to the members of the Authority, and I have told them upon pain of being fired, not another check or form of assistance must be given to the Minister," said Barrow.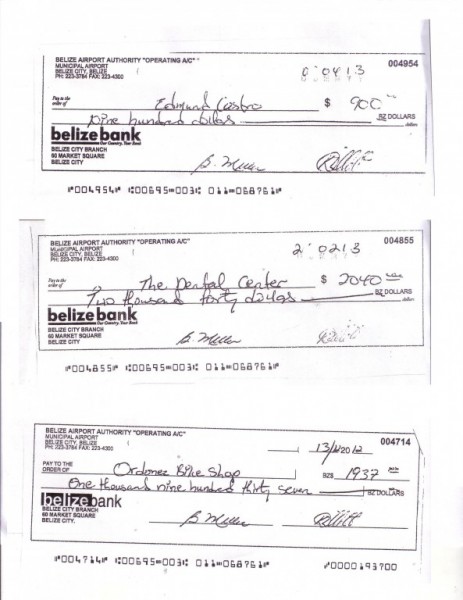 The Prime Minister pointed out that such practices have been seen with other statutory board in the past as was the case with the former Minister of Tourism with responsibility of the Belize Tourism Board, Godfrey Smith. "This is a practice that is as old as the mountains," said Barrow.
Castro has not been short on trouble as he was recently pointed out in a visa scandal in which he was accused of being involved in the selling of visas to Asian nationals. Castro was also accused of making unwelcome advances to a Taiwanese chaperone while on official government business to that country. He was also fired from Cabinet under the first term of PM Barrow, after Castro was accused in a land hustling transaction.
The PUP released 76 checks that were issued at Castro's request from the BAA to various individuals, institutions and businesses. All the checks ads up to over $116,155.19 and were issued between December 28, 2012 and September 11, 2013. Ten of the checks were issued to Castro's son, Jafari, a couple to his driver Norman Middleton, a few to a business associate, and many to schools and businesses.
There have been no official words from Castro or the BAA regarding this new revelation. The BAA is responsible for the management of all local airports in Belize. The San Pedro Sun will be following this new development very closely.
Follow The San Pedro Sun News on Twitter, become a fan on Facebook. Stay updated via RSS