Guatemalan President Jimmy Morales visits Belize: COLA protests visit
Thursday, December 3rd, 2015
The recently elected President of Guatemala, Jimmy Morales was in Belize on Saturday, November 28th as part of a diplomatic tour of Central America. While Morales was graciously greeted by Prime Minister of Belize Dean Barrow, others protested his arrival. Due to his views on Guatemala's territorial claim over Belize, Citizens Organized for Liberty through Action (COLA) believe Morales should have not been allowed an audience in Belize, as he clearly has intentions of attempting to reclaim what he believes rightfully belongs to Guatemala. However, PM Barrow welcomed him at his office on Coney Drive in Belize City for a meeting that lasted less than an hour.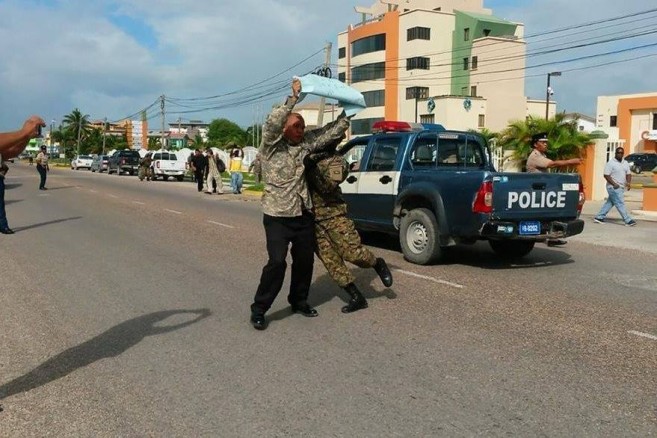 On Friday, November 27th the office of the Prime Minister released a statement as to the nature of Morales indicating it was only a courtesy visit. "Morales has this week been touring the region, paying courtesy calls on all Heads of State and Government of Central American Integration System (SICA) member states and Mexico. It being a courtesy call, it is not expected that the meeting will delve into too much detail of our bilateral relations but the general public will be informed of the content of their discussions," stated the release.
Security was amped up on the day of Morales' arrival to ensure his safety while in Belize as tensions have been high between Guatemalans and Belizeans over the territorial dispute. Representatives of Belize Territorial Volunteers (BTV), and Belize Progressive Party (BPP) had joined COLA in a small demonstration outside of Barrow's officer. The group of about five protestors were led by Wil Maheia and COLA President Geovanni Brackett. The demonstration was quickly shut down by the security detail escorting Morales to the building, and even led to the arrest of Brackett for what the Gang Suppression Unit (GSU) claimed to be unruly behavior.
Maheia expressed great disappointment on the strength of the protest. "A few Belizeans came out just to be harassed by the police. I don't know what kind of country we're living in, but we can't give up because at the end of the day this is home, and I hope that at the end of the day somebody will get the sense and begin to stand up for what they believe in. I am disappointed with the people of Belize. Behind the scenes the amount of inbox messages we get where people are saying they're with the cause, but they can't even come out and support," said Maheia.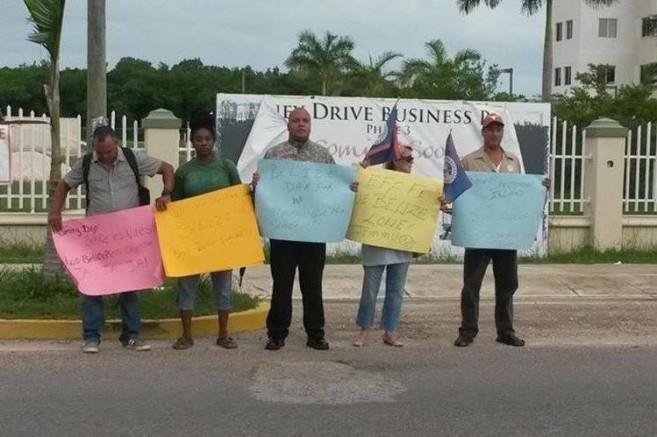 Equally, Brackett was also disappointed not only with the turnout, but with the way law enforcement officers handled the demonstration. "This is the price activists have to pay to advocate on an issue and I make no apologies about it. Luckily I had good friends who came out and had three attorneys who showed up for me: Arthur Saldivar, Phillip Palacio and Kareem Musa. Whether it was ten thousand or just one person out there, somebody had to make an initial statement to say this. Jimmy Morales has claimed this nation and he comes in and gets protected by our authorities, being treated as a VIP. Usually when you have two enemy states, they would meet on neutral grounds I don't invite the leader of your enemy to come into your nation get into your best hotels, best treatment, and get protected by your best officers, best law enforcement," comment Brackett on the ordeal. Brackett was released on the same day of his arrest with no charges being laid on him.
And while the protesters expressed their view on Morales's visit, Barrow indicated that the meeting's atmosphere was "cordial" as "they both congratulated each other for their respective recent victories at the polls". The meeting was private, but a press release was later issued that indicated what had been discussed by Morales and Barrow. "Prime Minister Barrow and President-elect Morales discussed the bilateral relations between Belize and Guatemala, including a way forward in respect of resolving our historical differences. They agreed to continue along the path set out in the Framework Agreement and Confidence Building Measures of 2005 for expanding functional cooperation between the two countries, and each committed to strengthen the processes that already exists for good neighborly relations so that the two countries may continue to live in peace and as friends pending a legal resolution of the territorial dispute. Both sides agreed to make a greater effort to enhance cooperation and understanding at various levels, especially in areas of security, business, trade and investment," stated the release.

Barrow even offered a media briefing in the afternoon of Saturday, November 28th to better shed some light on the Morales courtesy visit. "[Moralez] indicated that he is committed to working the process. I told him that I appreciated that. We are going to be geographically contiguous – we are going to be neighbors forever. The professional relationship I think is good between the militaries, between our foreign ministries, the people to people interaction is good. There are trade ties; there are ties of commerce; there are educational exchanges. I was very clear that both sides needed to understand that the confidence building measures, the protocols in place and the all-important factor of goodwill – all must be put into the pot, stirred properly to ensure that we avoid flashpoints, to ensure that we can live in peace and good neighborliness respecting each other's sovereignty while the question of dispute or claimed is being resolved by legal means," said Barrow.

He went on to explain that they slightly touched on the territorial dispute going to the international Court of Justice (ICJ) but not in depth. "I believe we all know that the legal mechanism, the legal function, the legal arrangement that we are talking about is the ICJ; providing both populations agree by way of the referendums; that would have to be held. So we didn't get into any detail in terms of the ICJ. He has to settle in, we have to be very sure that in terms of any referendum time table, it is a time table that suits Belize and so I didn't think this was the time to start discussing that sort of detail."
Morales did not provide any interviews or comments on the meeting, as he had requested no media attention prior to arriving in Belize. "[Morales] requested that the visit be low-key and that we not arrange any media. It was their request, it was their indication that they did not wish to speak to the press. I am speaking to the press. That is my obligation. He can decide whether he wants to speak to the press or not," explained Barrow. The only ones present at the meeting were Guatemalan Foreign Minister, His Excellency Carlos Raul Morales; the President-elect's Diplomatic Liaison Officer, Rodrigo Colmenares; Guatemalan Ambassador in Belize, His Excellency Estuardo Roldan; and Ms. Sandra Hovel, Director of Integration who accompanied Morales and Chief Executive Officer (CEO) in the Prime Minister's Office, Audrey Wallace; CEO in the Ministry of Foreign Affairs, Ambassador Lawrence Sylvester; and Ambassador of Belize in Guatemala, Alexis Rosado who accompanied Barrow.
At the end of the meeting, Morales extended a special and personal invitation to Barrow to attend the presidential inauguration in January 14, 2016. Barrow expressed that he has every intention to attend if health permits.
Follow The San Pedro Sun News on Twitter, become a fan on Facebook. Stay updated via RSS