Guatemala's new President, Jimmy Moralez to pursue territorial dispute
Thursday, October 29th, 2015
On Sunday, October 25th, citizens from the Republic of Guatemala took to the polls to elect a new president after the resignation and prosecution of former president Otto Perez Molina. With the ongoing territorial dispute, wherein Guatemala claims a major portion of Belize, the outcome of the election process not only affect Guatemalans, but also Belizeans. At the end of the election period, 46-year-old Jimmy Moralez garnered 67% of the votes over Sandra Torres, becoming the newly elected President of Guatemala. With Moralez taking office, Belizeans have much to be concerned about, as it has been reported that the new president intends to make the territorial dispute issue a priority during his administration and reclaim what he believes rightfully belongs to Guatemala.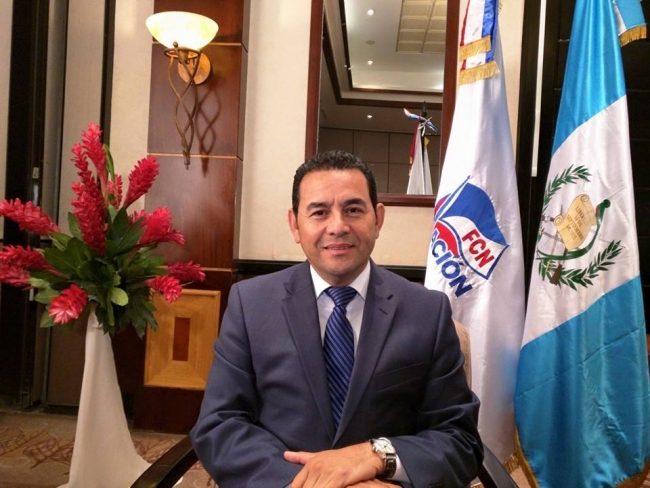 Moralez made the territorial claim a major part his campaign platform. In an address, he indicated that "Belize is Guatemalan territory" and he will "not let the opportunity pass to get a beautiful connection to the Caribbean Sea". Now elected, Moralez will pursue the territorial dispute and ensure that a decision is finally made by taking the issue to the International Court of Justice. "Why do we forget Belize? Until just a few years ago, the Constitution of Guatemala said that Belize is Guatemalan Territory. We still have a territorial dispute, without any intentions to fight with our brothers and neighbors, but with the intention and desire to say that we should not waste or give up one centimeter of our land, one centimeter of our water, one centimeter of that that unites us through history and heritage," said Moralez (translated from Spanish to English).
In response to Moralez, Prime Minister of Belize Dean Barrow has stated, "Belize will not be bullied" by the Guatemalan Government. "Congratulations are due to him. Morales is a neophyte, he is a novice. He's pulled off a magnificent coo in winning these elections. But he will learn that the kind of talk that we heard from him at the start with respect to Belize is absolutely unacceptable. Belize rejects that in its totality and if as I believe will be the case, those around Morales will make clear to him that to proceed in good neighborliness with Belize, to proceed on the basis on respecting Belize's territorial integrity, is the only way to go. We want to live in peace. We want to continue to live in peace. We want to settle the problems peacefully. We want to do so by diplomatic means. We will not be bullied and Morales needs to lean that right away," said Barrow.
Prior to taking the territorial dispute to the ICJ, both the Government of Belize and Guatemala have agreed to hold referendums in their respective country to allow the people to decide whether the issue should be taken to the ICJ. Initially the referendum should have been simultaneously held in both countries, but due to the signing of an amendment to the Special Agreement on Sunday, May 17th, the referendum can be held whenever it is most convenient for their governments. There is still no clear date as to when the referendum will be held in either Belize or Guatemala.
Follow The San Pedro Sun News on Twitter, become a fan on Facebook. Stay updated via RSS