Referendum approval key to ICJ resolution of the Guatemalan claim – says PM Barrow
Thursday, October 15th, 2015
Settling the territorial dispute between Guatemala and Belize by submitting it to the International Court of Justice (ICJ), would first require Belizeans' approval by a national referendum, affirmed Prime Minister Dean Barrow last Thursday, October 8th.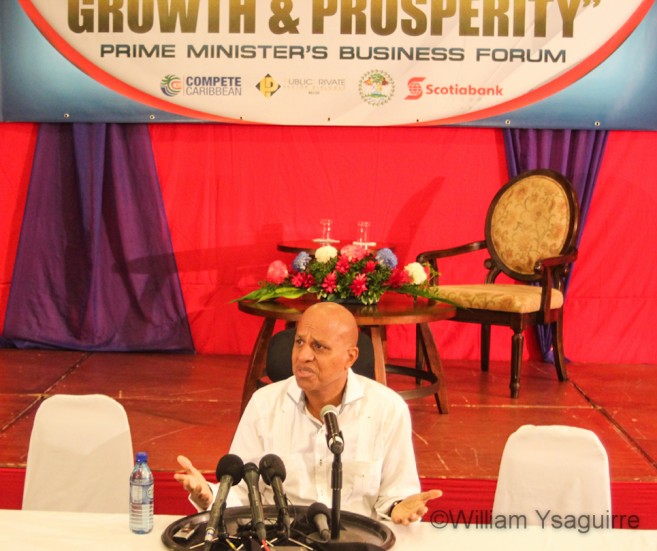 Barrow clarified this issue as he sought to deflect attacks, which he qualified as "unfair" against Belize's Minister of Foreign Affairs Wilfred "Sedi" Elrington regarding Elrington's 19-minute address to the United Nations on September 25th. His critics complained that Elrington had not devoted enough time in his speech to the Guatemalan claim, particularly in the light of recent Guatemalan aggression against Belizeans in the Sarstoon area, and that Elrington's speech dwelt too long on climate change.
In speaking at a press conference at the conclusion of the 4th annual Business Forum, at the Biltmore Plaza Hotel in Belize City, Barrow argued that climate change is very important to Belize's development, and is also extremely high on the UN global agenda.
Barrow recalled when he himself served as Foreign Minister, and said at the time, he too had rejected the Guatemalan claim unequivocally, by declaring that Belize is a sovereign, independent nation and would remain so. Therefore, any claim to Belizean territory had to be completely unfounded. He said in this regard, he did not see any need for Elrington to have said more on the issue than he did.
With regard to the path to the ICJ, Belize has already signed a special agreement, a compromise with Guatemala from December 2008, to submit the question of whether or not to go to the ICJ to national referendums in both countries. The referenda were to have been simultaneous, but this had proven difficult to achieve; nevertheless an approval by referendum remains the only way forward to the ICJ. Since this is already clearly understood in both countries, Barrow said he saw no need for Elrington to belabor the issue further at the UN, since we have already signed a special protocol on the matter.
Elrington is up for re-election to his seat as the representative for the Pickstock constituency in General Elections on November 4th.
Follow The San Pedro Sun News on Twitter, become a fan on Facebook. Stay updated via RSS