Belize to amend Special Agreement prior to referendum on the Guatemalan claim
Saturday, November 26th, 2016
On Thursday, November 17th the Guatemalan Congress finally approved the amendment to the Special Agreement in regards to the Belize-Guatemala dispute. This new development allows Guatemala to hold a referendum on whether its citizens want to take the territorial dispute to the International Court of Justice (ICJ). Belize is moving in the same direction, and the Senate is expected to take that same step as early as next week.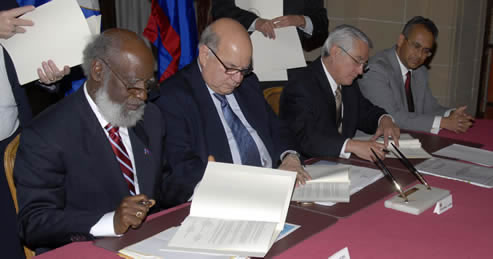 Under the terms of the amendment, the referendum can be held on separate dates as is most convenient for each country. Guatemala has been campaigning their good faith to solve the centennial territorial dispute with Belize, but has shown no signs of complete satisfaction with the long process. They are still seeking for Belize to amend its referendum law to allow a simple majority to carry the vote. Senate is scheduled meet on Wednesday, November 30th in Belmopan, but there is no certainty yet whether the Government will agree to Guatemala's request.
During the meeting next week, the Senate will have the task to approve a resolution authorizing Belize's ratification of the Special Agreement on submitting the Guatemalan claim to the ICJ. However, even if this is approved, any proposal would still have to go to a national referendum before it goes to the ICJ. It is expected that such action by the Senate on this subject will make the international community aware of Belize's commitment to solve this long issue with the neighbouring country.
When the Special Agreement was signed in May of 2015, the main detail of the document allowed both Guatemala and Belize to hold a referendum on different dates. This was as a result of the unsuccessful first agreement which asked both countries to hold the referendum on the same day. After these recent developments, both Belize and Guatemala are optimistic that the long awaiting final step to head to the ICJ, which is the referendum, finally takes place in mid-2017.
Follow The San Pedro Sun News on Twitter, become a fan on Facebook. Stay updated via RSS