BTV Expedition greeted with a blockade from the Guatemala Armed Forces
Thursday, March 3rd, 2016
Tensions at Sarstoon River remain high between Belize's and Guatemala's armed forces. Even with the ongoing construction of the joint Belize Coast Guard (BSG) and Belize Defense Force (BDF) Forward Operating Base (FOB) at the mouth of the river, Guatemalan armed forces still venture into Belizean water, imposing their territorial claim and driving away Belizeans who they deem to be 'trespassing'. Most recently, Guatemalan forces blocked the Belize Territorial Volunteers' (BTV) trip to Sarstoon River on Saturday, January 27th, which is an area within Belizean Territory. This is not the first time Guatemalan forces do such a thing, and the Ministry of Foreign Affairs is finally taking action.
According to reports, BTV was about to enter the Sarstoon River from the Bay of Honduras when they encountered a blockade of Guatemalan vessels. Reportedly, Guatemala authorities ordered BTV to turn back as they were trespassing but in fact, it was the Guatemalan's who were trespassing in Belizean waters. Following the incident, the Ministry of Foreign Affairs of Belize stated "Belize's security forces witnessed on Saturday, 27th February, 2016 an increased state of alertness by the Guatemalan Armed Forces in the Sarstoon River who appeared intent on blocking entry of Belizean civilians into the Sarstoon River from the Bay of Honduras." The Ministry went on to indicate that they will raise its concern with the Government of Guatemala and the Organization of American States on the matter, "and will continue to actively seek the adoption of confidence building measures for the area, pending a definitive resolution of the dispute arising from Guatemala's claims."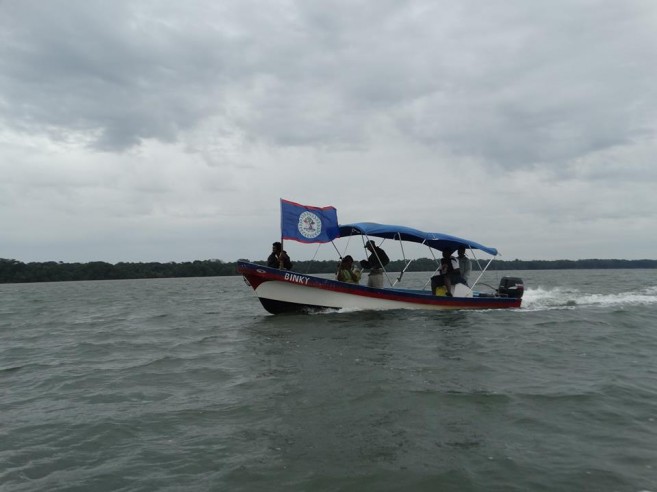 But even though the Ministry of Foreign Affairs has released a statement on the matter, BTV still believes much more can be done to prevent these situations. "Saturday marked one year since the 37 Belizeans were captured or detained by the Guatemalan military. It was right in this same area. Clearly we were on the Belize side. So, we can't let that go, something that happened so drastic in our history – we couldn't let that go unnoticed. So the purpose of the trip is to remember that Guatemalans came into Belizean territory and detained Belizeans," said Leader of the Expedition, Will Maheia.
Maheia indicated that Guatemalan authorities do not respect Belizean territory or its people. "There were like five Guatemalan military boats. They didn't only have one or two people on it; some of these boats had up to 15 people on it. So of course, its human being, human nature – it's very intimidating what they did. They tried to push our boats towards our military outpost. But the minute we tried getting into it, they've blocked us clearly inside Belize waters again. So, I mean right now as a Belizean we cannot even access our own military base without having to check in with the Guatemalans. I just find that this is very disappointing. Clearly they are undermining us. But clearly we can't give up. This is Belize and we have to fight for ever. So I think that we cannot give up," said Maheia.
For Belize's Minister of Foreign affairs, Honorable Wilfred Elrington, the blockade was to be expected and that he warned BTV about the trip. "You would have noticed that the Ministry of Foreign Affairs had sent out a release, even prior to Saturday, indicating that there could be some difficulty with Belizeans going into that area. So that what transpired on Saturday really did not come as a surprise to me, nor I imagine, to the members of government. I think what we are very thankful for is that nobody got injured and in fact they came back safe. Nobody was taken to Guatemala, nobody was taken in custody and that ended well. There is a suggestion coming from our military that one of the Guatemalan vessels may have entered into Belizean territory and that we are going to deal with in the usual way. We would lodge a protest, and a strong protest, to the Guatemalans saying that we do not countenance that kind of activity where they are coming into our waters. That is the usual diplomatic way in which we handle it. But all, in all I thought that we were happy to see that there was nothing more unfavorable transpiring," said Elrington during a press conference.
Even Chief Executive Officer of the Ministry of National Security, Lawrence Sylvestre has spoken on the hostility from Guatemalan forces at Sarstoon. "These areas are still subject to an active territorial controversy between Belize and Guatemala, and we are in a highly sensitive time. We have heard of situations where even Belizean security patrols are being challenged by elements of the Guatemalan Armed Forces," said Sylvestre, who believes it is best for BTV to cease doing such expeditions in the future. "I wish to appeal to Belizeans to stay out of the area and to assure them that the assertion and maintenance of sovereignty over our side of the river is best left to our official authorities and our security forces. The Government is trying to peacefully settle a claim using diplomacy," said Sylvestre.
The trip was made on the anniversary of the day Guatemalan authorities detained Belizeans for visiting Gracias a Dios monument in southern-western Belize.
Follow The San Pedro Sun News on Twitter, become a fan on Facebook. Stay updated via RSS