Prime Minister Barrow Convenes National Security Council Meeting
Friday, April 22nd, 2016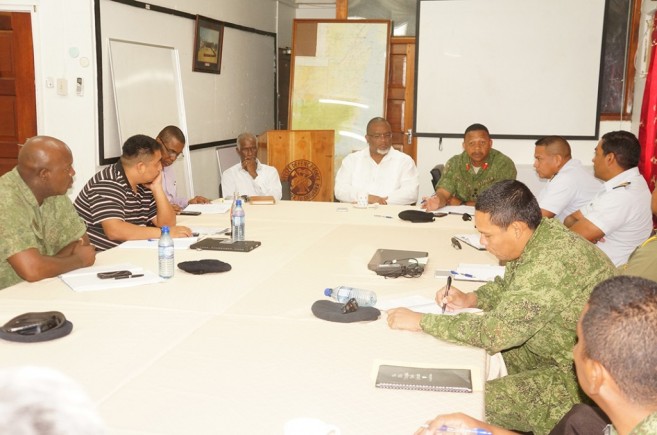 Press Release – Government Press Office – April 22, 2016 – The Government of Belize informs the general public that Prime Minister Rt. Hon. Dean Barrow convened a special meeting of the National Security Council (NSC) this afternoon in Belize City to address the issues surrounding the incident that claimed the life of a Guatemalan minor in the Chiquibul Forest in Belize's territory. The Prime Minister joined the meeting via telephone from New York City, where he is attending the signature ceremony for the Paris Agreement on climate change.
The Prime Minister briefed the NSC on the meeting he had with Guatemalan President Jimmy Morales in the margins of the meeting at the United Nations Headquarters during the Paris Agreement signing. The Prime Minister confirmed to President Morales that an impartial inquiry into the circumstances surrounding the incident had begun and is led by the Organization of American States (OAS). Prime Minister Barrow recommended to President Morales that assistance be sought from the Government of the United States to deploy a criminal/forensic expert to provide the necessary technical expertise to the OAS verification exercise. He reiterated Belize's position that the Belize security forces patrol was fired upon and only responded in self-defence.
While both leaders may maintain their versions of the incident, they both agreed that there is immediate need to de-escalate the tension and both agreed that all measures will be taken to achieve that, and to ensure there are no breaches of the peace that currently exists between the two countries. Prime Minister Barrow took to the opportunity to express regret on the unfortunate loss of life of the minor.
While at the United Nations Headquarters in New York, Prime Minister Barrow met with the Deputy Secretary General of the United Nations and apprised the United Nations of what has transpired and the increase tension between both countries, and requested the UN's good offices to urge both sides to respect the Confidence Building Measures. He also met and briefed the CARICOM Secretary General and the Prime Minister of Barbados. Prime Minister Barrow also spoke to the OAS Secretary General via telephone and updated him on the situation surrounding this issue.
The Belize security forces assured the NSC that they are on a heightened state of alert and will remain vigilant. The lines of communication remain open between the Belize Defence Force and the Guatemalan Armed Forces and our international partners and allies remain fully briefed on this situation.
Prime Minister Barrow gave an audio statement which has been circulated to the media and he will address the nation at a press conference on Monday after he returns to the country.
Follow The San Pedro Sun News on Twitter, become a fan on Facebook. Stay updated via RSS