Belize and Guatemala Foreign Ministers Meet with OAS to Reactivate Joint Commission
Thursday, January 28th, 2016
Belmopan. January 28, 2016. The Ministers of Foreign Affairs of Belize and Guatemala along with the Special Representative of the Organization of American States (OAS) Secretary General met at the OAS office at the Adjacency Zone on Friday, 22 January 2016 to discuss the status of the bilateral agenda and reactivate the Belize – Guatemala Joint Commission as established under the Framework Agreement on Confidence Building Measures of 2005.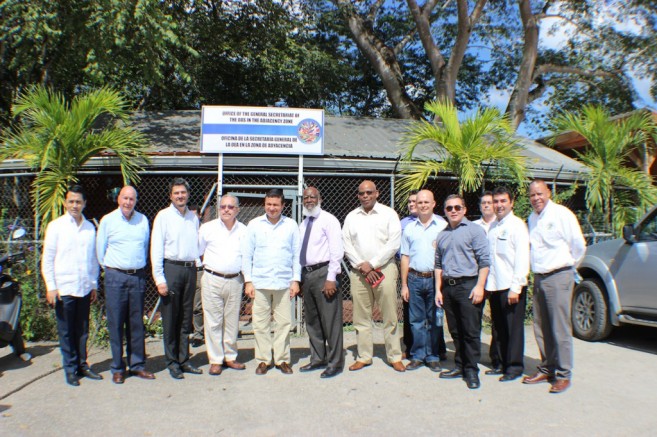 The Ministers agreed that the work of the Joint Commission is important in promoting efforts at building confidence and enhancing relations between the two countries, even as the two countries strive to bring to an early and definitive end the dispute over Guatemalan claims in accordance with the Special Agreement between the two countries.
Both Ministers of Foreign Affairs highlighted the importance of meaningful programs that can directly promote development and protection of the environment in adjacent communities across the two countries. They also expressed satisfaction that they are now in a position to start implementing the cooperation agreements that were signed in December 2014. They charged the Commissioners with developing a work plan for implementation and to explore other ways of promoting confidence and neighbourliness between the two countries for the Ministers' consideration.
The Foreign Ministers also expressed their appreciation for the contribution of the OAS in support of the Joint Commission as well as the important work of the Office of the OAS in the Adjacency Zone. They both expressed the vital role of the OAS in the entire process, especially the Good Offices functions of the Secretary General and the need to maintain the Office in the Adjacency Zone active and adequately funded.
Minister of Foreign Affairs, the Hon. Wilfred Elrington, was accompanied by H.E. Lawrence Sylvester, Chief Executive Officer in the Ministry of Foreign Affairs; H.E. Alexis Rosado, Ambassador to Guatemala and Belize's Commissioner on the Belize – Guatemala Joint Commission; H.E. Stuart Leslie, Referendum Commission – Boundaries Unit; H.E. Said Guerra and Alfonso Gahona, Director of International Affairs; and Luis Verde, Foreign Service Officer in the Ministry of Foreign Affairs.
Follow The San Pedro Sun News on Twitter, become a fan on Facebook. Stay updated via RSS