Director of GOB Press Office Dorian Pakeman placed on unpaid leave
Saturday, September 10th, 2016
At a police press conference on Monday, September 5th in Ladyville, Assistant Commissioner of Police Edward Broaster, who is in charge of the Belize Rural Eastern Division, revealed that the lab tests done on a blood specimen taken from Director of the Government of Belize (GOB) Press Office, Dorian Pakeman revealed traces of cocaine. The specimen was taken after Pakeman was involved in a traffic accident earlier this year, in which 45- year-old Dean Dawson was knocked down and killed. The test results came back clear of alcohol, but showed the presence of cocaine. As a result, the Government via a press release, has announced that Pakeman has been put on immediate unpaid leave.
On March 31, 2016, Pakeman was driving a government issued vehicle when he fatally injured Dawson, a mechanic and father of ten from the Gardenia Village in the Belize District. The exact location of the fatal accident was on the Philip Goldson Highway between miles 22 and 23, in Biscayne Village. The investigations revealed that Dawson was heading toward Crooked Tree when the accident happened. Pakeman was never charged and was only served with a notice of intended prosecution.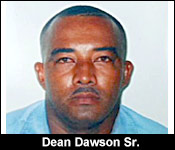 The investigation regarding the chain of events leading to the accident reveal that the vehicle Pakeman was driving was extensively damaged due to the impact. A long tire impression on the highway at the scene of the accident indicated that the driver attempted to stop the vehicle after the initial impact. Pakeman told authorities that he was heading towards his Ladyville home from Orange Walk Town and upon sighting Dawson he attempted to swerve out of his way, but ended up hitting him.
It was also alleged that Pakeman was not driving at a high speed; however, Dawson's wife told the local media that her husband got hit really hard. "Nobody could tell me that the driver was not driving fast. If he was not, maybe Dean would not have died on the spot," she said.
The Government of Belize awaits the decision from the Director of Public Prosecution on whether to bring charges against Pakeman. In the meantime Pakeman remains on unpaid leave.
Follow The San Pedro Sun News on Twitter, become a fan on Facebook. Stay updated via RSS