Press Officer Director Dorian Pakeman still under investigation
Friday, November 4th, 2016
It's been over a month that Director of the Government of Belize (GOB) Press Office, Dorian Pakeman, was put on immediate unpaid leave following the revelation that cocaine had been found in his blood specimen following a traffic accident that killed a man. Pakeman is still being investigated by the Director of Public Prosecution (DPP). In March 2016, Pakeman was involved in a traffic accident in Biscayne Village, which resulted in the death of 45- year-old Dean Dawson. Pakeman was never charged and was only served with a notice of intended prosecution. However, when the DPP stumbled across Pakeman's laboratory exam, which tested positive for cocaine but was hidden by a police officer, he was placed on leave.
Rural Executive Officer for the Eastern Division, Assistant Commissioner of Police (ACP) Edward Broaster, stated that the police have fulfilled certain directives from the DPP, and the investigation is still ongoing. "The status of the Pakeman file as it is, the DPP had given us certain instructions to carry out and we are in the process of completing those instructions and we will return the file to the DPP," said Broaster in an interview with Channel 5 News.
Broaster also noted that Dawson's blood sample was intentionally contaminated with ethanol, and a crime scene technician is being investigated. Dawson's blood sample was taken when the autopsy was being conducted at the Karl Heusner Memorial Hospital, and then later transferred to the National Forensic Science Service (NFFS) in Ladyville. "This investigation is being carried out by the Professional Standards Branch in the person of ACP Keith Lino, as well as the Ministry of Home Affairs at this time, in to who tampered with those samples. So, I am not privy to any outcome or any information into where the status of that investigation is at that time," said Broaster.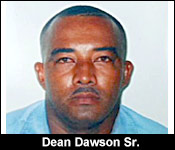 In addition, Broaster specified that the person who tampered with Dawson's blood sample, is different from the person who did not return the cocaine test sample and certificate. He did mention how it was the officer's neglect of duties. "It was really a neglect not to get the copy of the certificate to the DPP," ended Broaster.
Until the investigation is completed, Pakeman still awaits the decision of whether or not he will be charged for the nature of the traffic accident, as well as his future as Director of GOB's Press Office.
Follow The San Pedro Sun News on Twitter, become a fan on Facebook. Stay updated via RSS