Dorian Pakeman charged for Dean Dawson's death
Thursday, January 12th, 2017
Suspended Director of the Government Press Office Dorian Pakeman has been formally arraigned and charged. The charge comes nine months after he knocked down and killed Biscayne mechanic, Dean Dawson in a tragic traffic accident. On Tuesday, January 10th, Senior Magistrate Sharon Frazer officially charged Pakeman for "causing death by careless conduct", and granted him bail of $3,500.
In September 2016, an investigation revealed that at the time of the accident, which occurred on March 30, 2016, Pakeman's blood sample tested positive for cocaine. According to Assistant Commissioner of Police (ACP) Edward Broaster, Regional Commander, Rural Eastern Division, these results were withheld from the Director of Public Prosecutions (DPP) and were discovered months after. Moreover, he stated that the National Forensic lab revealed that Dawson's blood sample had been tampered with to make it look as if he was drunk at the time of his death. Broaster indicated that the high concentration of ethanol discovered in Dawson's blood was impossible for a human to have consumed.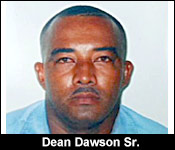 Defending Pakeman was Attorney Bryan Neal, who was pleased with the outcome of the Magistrate's final decision. In addition, he also denied the allegations of Pakeman having cocaine in his blood sample. "Clearly, the Director of Public Prosecutions looked at the evidence; she had a lot of time. I think that no one can disparage the reputation of our DPP – she is a fine lady. Having looked at the evidence, she, in her prerogative, decided this was the only charge to bring. So all that talk that we heard in the media before about substances in his system…we don't know where that came from," said Neal.
After the court hearing, Pakeman avoided the press and left court without giving a public comment. However, Neal did admit that his client is remorseful for Dawson's death. "What I want to say publicly, and I think it has not been said before, is to say sorry to the family of Dean Dawson. These accidents, as they often do, claim the lives of people; it is a problem we are having in our country. My client has instructed me specifically to state that he is sorry for what has happened; he intends to the fullest extent that he can to compensate the family at a later date, after we're done with these charges. But the main thing is to reach out to this family and say a sincere sorry on behalf of my client, for what has happened," said Neal.
Following his arraignment, Magistrate Frazer also ordered Pakeman to not leave the country without notifying the court first of reasons he must travel. However, he was not asked to surrender his passport. He is expected to return back in court on March 10, 2017. As of press time, there has been no statement from Dawson's family regarding the charges brought against Pakeman.
Follow The San Pedro Sun News on Twitter, become a fan on Facebook. Stay updated via RSS