Interoffice Basketball League 2012 kicks off: Tuff E Nuff wins!
Wednesday, May 30th, 2012
The Interoffice Basketball League 2012 started on Friday May 25th in Belize City. San Pedro is being represented in the league by the Tuff E Nuff Tours team. The league has a total of 10 teams who will be challenging each other during the regular season to win a space in the playoffs scheduled to start on June 29th.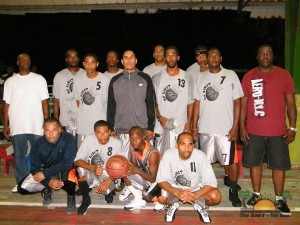 Tuff E Nuff started the regular season on the right foot having won its first two games in the regular season. In its first game, which was the inaugural game on Friday May 25 at the Birds Isle in Belize City, Tuff E Nuff managed to edge Alamilla Furniture Boys by a score of 53 to 51 points. It was a disappointment for the Alamilla Furniture Boys having dominating three quarters by 13 points. Tuff E Nuff made a remarkable come-back in the last quarter topping the Belize City based team by a two -points lead in the last five seconds before the long whistle.
In their second game against the Conscious Youth Development Program (CYDP), Tuff E Nuff was forced into overtime. The CYDP dominated most of the game but the islanders made a come-back in the third quarter by a one- point lead.  Tuff E Nuff kept the one-point lead through most of the fourth quarter but in the end, the game concluded with a 58 to 58 point tie. Tuff E Nuff managed to clip on to the lead in the overtime, eventually winning over CYDP with a score of 75 to 68 points.
The schedule for Tuff E Nuff in the regular season is as follows:
| Date | Teams | Time |
| --- | --- | --- |
| *Friday 1st June | Tuff E Nuff vs Maria Chang | 8:00pm |
| Sun 3rd June | Tuff E Nuff vs Kolbe | 3:00pm |
| Sat. 9th June | Tuff E Nuff   vs Quan's Trading\Kephawn | 6:00pm |
| *Friday 15th June | Tuff E Nuff  vs BTL | 7:00pm |
| Sun 17th June | Tuff E Nuff  vs Police | 1:00pm |
| Thur. 21st June | YFF vs Tuff E Nuff | 6:30pm |
| Sun 24th June | Tuff E Nuff vs Caye Caulker | 12:00pm |
*Games schedule to be aired live on More FM 99.5
Congratulations to the Tuff E Nuff team and good luck in the regular season of the league.
Follow The San Pedro Sun News on Twitter, become a fan on Facebook. Stay updated via RSS